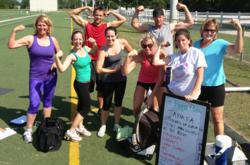 At Trinity Fitness, I want to remove every barrier to spiritual health and fitness. -- Jason Palmisano, CEO and founder of Trinity Fitness
Satellite Beach, Florida (PRWEB) May 31, 2013
Trinity Fitness announced today that they are expanding throughout Florida and into other states. The non-profit, faith-based fitness program combines mental, spiritual and physical training into one dynamic workout. Their vision is simple: healthy people inside and out.
Trinity Fitness is the brainchild of Jason Palmisano, a graduate of University of Central Florida. In 2008 he started Trinity Fitness in his garage in Satellite Beach, Florida. It has since expanded to several chapters in Florida, including Jacksonville, Gainesville and Orlando. Recent out of state chapters include Tennessee and plans for a chapter in Alaska.
Trinity Fitness provides a boot camp style workout for the body and soul. The spiritual focus is first with a short devotion and opening prayer. The physical workout is then explained and participants move into the warm up phase. The workout itself is based on the concept of metabolic conditioning, a constantly changing program that focuses on high intensity strength and cardio training for short periods of time. A short closing prayer and announcements finish off the session. The atmosphere is extremely positive, encouraging and healthy.
"We operate purely off of donations," explained Palmisano, CEO and founder of Trinity Fitness. "I was once on welfare and food stamps, delivering pizzas for a living. I know what it's like for hard working folks to struggle. At Trinity Fitness, I want to remove every barrier to spiritual health and fitness."
Trinity Fitness workouts take place in a group setting and are always led by at least one Trinity Fitness certified trainer. Each workout is fast paced, challenging and ever changing. Boredom is the enemy – not just mentally, but physically.
"The popularity of Trinity Fitness has been growing rapidly—in terms of both participants and people wanting to open a Trinity Fitness chapter," continued Palmisano. "We just conducted our first trainer certification course, and thirty talented individuals completed the three day course. Our goal is to expand Trinity Fitness nationwide, so we will continue to work with people who want to operate a chapter or work as trainers."
According to Anthony Widener, facility director of two Trinity Fitness chapters in Jacksonville, Florida, "Trinity Fitness allows me to combine my two greatest passions–love of Jesus and love of personal training. My goal is to provide an atmosphere that inspires people to get in the best spiritual and physical shape of their lives."
Widener explained why the workouts are so successful. "Unlike a lower intensity workout, our workouts increase fat burning for many hours after the exercise is completed. People stay motivated and see results, because each workout is different and adaptable to meet individual fitness levels."
"No two workouts are ever alike, so I don't get bored and the group's enthusiasm keeps me motivated," explained Michelle Duke, one of the members of the Jacksonville, Florida workout group. "It's definitely an intense 20-25 minutes. But when we're finished, I feel great!"
About Trinity Fitness
Based in Satellite Beach, Trinity Fitness is a 501(c)3, non-profit organization that operates on charitable giving. The organization is managed by a national board of directors with day to day corporate operations carried out by Palmisano and his staff. All trainers are fully certified and often assist members in tailoring a workout and nutrition lifestyle to meet their fitness goals. The mission of Trinity Fitness is to provide an atmosphere that inspires people to get in the best spiritual and physical shape of their lives with no financial obligation to the individual. To receive information about starting a Trinity Fitness chapter, please visit: http://trinity-fitness.org/start-a-trinity-fitness-in-your-town
Donations to Trinity Fitness are accepted by visiting the website or mailing the contribution to PO Box 33621 Indialantic, FL 32903.