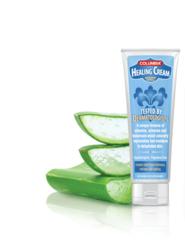 (PRWEB) May 30, 2013
But first: what exactly is aloe vera?
As a member of the cactus plant family, aloe vera grows in arid climates and stores moisture in its leaves. The healing qualities of aloe gel have been utilized for centuries - the ancient Egyptians even called aloe the "plant of immortality." The clear gel found in its leaves has widely been used to maintain healthy skin. Most are familiar with the soothing effect of applying aloe to a sunburn.
Aloe gel contains more than 75 naturally occurring vitamins, minerals, antioxidants, amino acids and enzymes known to help with a number of skin-related issues (1). For example, Aloe contains C and E vitamins that fight aging by keeping skin firm and tight. It has healing and anti-inflammatory hormones that treat acne, burns, dry flaky skin, small cuts, abrasions, itchiness making it an effective treatment for skin (2). According to the Mayo Clinic, topical aloe gel has immunomodulatory properties that may improve wound healing and skin inflammation (3). Medical studies how that aloe has even been known to soothe persistent conditions such as eczema, dandruff, and psoriasis (4,5,6).
So what's the problem with most skin care products containing aloe?
The way in which aloe is extracted and processed has profound implications on how much of the original natural benefits of the plant are maintained in the final product (7). When aloe is extracted under high heat and thrown in a blender, it loses its potency. Much of the benefits are diminished and rendered ineffective in the process, leaving the consumer with a much weaker product (8).
Does it make sense to use a dehydrated product to hydrate your skin?
Not surprisingly, but widely unkown, many companies use powdered aloe to keep costs down since the dehydrated aloe doesn't need to be processed fresh and storage is easy. This makes it cheaper but at the cost of effectiveness. And unlike the orange juice at the grocery store, they don't have to claim that the aloe they are using is made from concentrate so consumers are unaware they are purchasing a product that has been processed to a degree that reduces it's potency (9).
Columbia Healing Cream has taken a quite different approach.
Columbia Healing Cream has developed a specialized way to extract essential aloe through a process called "Cold Pressing" that yields the most effective and least processed aloe isolate. Cold pressed aloe is far more potent than other aloe products that are processed with heat (10). Columbia's process is more time consuming and costly, but it leads to a product that is of superior quality and far more efficacious. With no corners cut, you can liken their delicate old-world methodology to finely crafted wine.
Columbia Healing Cream uses only the most effective ingredients, carefully picked after years of testing for purity and their ability to work in harmony with, and actually enhance the effectiveness, of the other ingredients in the formula. They choose these ingredients, not so they can sport the latest fad ingredients in bold lettering on their packaging, but because Columbia strives to produce the most powerful skin care product on the market. This attention to the most minute detail in their labs, yields twice the healing enzymes, twice the vitamins, twice the soothing amino acids for enhanced skin repair.
People are rightly concerned about the products they put into their bodies as evidenced by the scrutiny they apply when reading the ingredient labels on food products. Columbia believes a product that is absorbed into your skin should be made with equal care and attention to its components. After all, skin is the largest vital organ in the human body. With Columbia brand products, consumers can finally treat it as such.
(1) http://saveyourworld.com/Organic-Aloe-Vera-s/48.htm
(2) Shelton RM. Aloe vera. Its chemical and therapeutic properties. Int J Dermatol. 1991 Oct;30(10):679–683. [PubMed]
(3) http://www.mayoclinic.com/health/aloe-vera/NS_patient-aloe
(4) Zawahry ME, Hegazy MR, Helal M. Use of aloe in treating leg ulcers and dermatoses. Int J Dermatol. 1973 Jan-Feb;12(1):68–73. [PubMed]
(5) Vardy AD, Cohen AD, and Tchetov T. A double-blind, placebo-controlled trial of Aloe vera (A. barbadensis) emulsion in the treatment of seborrheic dermatitis. J Derm Treatment 1999;10(1):7-11.
(6) Syed, T. A., Ahmad, S. A., Holt, A. H., Ahmad, S. A., Ahmad, S. H., and Afzal, M. Management of psoriasis with Aloe vera extract in a hydrophilic cream: a placebo-controlled, double-blind study. Trop.Med Int Health 1996;1(4):505-509.
(7) P. Hemalatha, E. Vadivel, T. Saraswathi and K. Rajamani Role of Preservatives and Storage Temperature on the Post Harvest Quality of Aloe vera Gel
(8) Ivan E. Danhof, M.D., Ph.D. Aloe Vera Leaf Handling And Constituent Variability
(9) http://www.naturalnews.com/022016_aloe_vera_gel.html
(10) Alfred Garbutt, D.C. The Rediscovery of Aloe Vera - Processing the plant with high heat also
destroys many of the beneficial ingredients of Aloe.