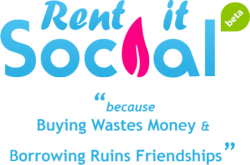 Rent it Social is the recycle movement of the 21st century.
West Valley City, Utah (PRWEB) May 30, 2013
Utah-based Rent it Social LLC today announced the launch of its new peer-to-peer rental service which allows users to earn money online by renting out their items, services and spaces to their friends and neighbors. Rent it Social is the first to bring a full-featured peer-to-peer rental experience to the web enabling thousands around the country to leverage their social networks to generate recurring income online.
Speaking about the launch, former Microsoft Program Manager and Rent it Social founder, Alma Ohene-Opare, shared his motivation for starting the service, "As an immigrant to the United States and a beneficiary of the American dream, Rent it Social is my attempt to give back by helping people realize they can succeed financially using items they already own and tools freely available to them." Ohene-Opare, also expressed his vision to "make peer-to-peer renting the recycle movement of the 21st century."
The online service also targets users who want to save money by giving them easy access to items they could never afford. For example an ATV which could cost hundreds of dollars could be rented from a friend or neighbor for $10-$15 per day on Rentitsocial.com.
For those concerned about the potential for the damage of rented items, Rent it Social Chief Operating Officer, Corey Robison, noted that "Rent it Social allows its renters to charge a security deposit to cover minor damages to their rented items." The site also allows renters to choose who they rent to, giving them full control over the rental process.
Finally, in the spirit of giving back to the community, Rent it Social hopes to spur charitable giving by allowing renters to donate the proceeds of their rentals to a charity of their choice directly through the site.
About Rent it Social LLC.
Rent it Social LLC is a Utah-based company founded in 2013 by Alma Ohene-Opare. The company's mission is to empower Americans with new tools for success while simultaneously championing charitable giving, frugality and good stewardship over the resources we are blessed with.