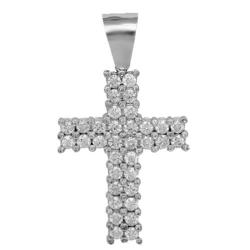 Manhattan, New York (PRWEB) May 30, 2013
Traditionally, men's jewelry was limited to classic timepieces, solid gold wedding bands, and for some, religious pendants that reaffirm their faith. While historically limited, men's jewelry has evolved into an all-encompassing assortment of pieces, diverse in form and materiality. This evolution is most evident in Mens Diamond Cross Pendants and when it comes to original design and exceptional craft, there is no question as to who is leading the pack. With their flagship store in New York City's famed Diamond District, the jewelers at Avianne & Co. have developed an extensive selection of striking men's diamond cross pendants over the past two decades.
Among the most notable and refined pieces in the collection is the Stratos Cross Pendant, a 14k white gold cross adorned with eighty-eight brilliant white round cut diamonds. Using two separate techniques, designers set the larger stones using prongs with surgical precision and encased the smaller diamonds in a protective bezel setting. Unlike traditional diamond cross pendants, the Stratos Cross Pendant is flooded with stones on multiple setting planes, giving it an exceptional level of depth and allure.
Measuring two and a half inches in length, this piece announces its presence with a dazzling array of diamonds set atop a lustrous white gold frame. The jewelers at Avianne & Co. have produced an expansive collection of men's diamond crosses using the highest quality diamonds and the master craftsmanship that has become synonymous with their brand. One of the largest online, their collection features a diverse range of pieces handcrafted and distributed for their clients all over the world. A bold and emphatic gesture of the wearer's faith, the Avianne & Co. Stratos Cross Pendant is set to join the jeweler's exciting selection of cross pendants on June 3, 2013 at the special price of $8339.00. It's the ideal accessory, designed to enhance any ensemble, regardless of the occasion.