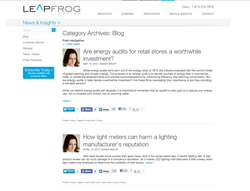 The top consumer complaint about LEDs is the unsatisfactory quality of the light.
Ottawa, ON (PRWEB) May 29, 2013
Leapfrog Lighting News & Insights—a blog designed to challenge and inspire the LED lamp industry—announces three feature stories focused on LED lamp quality:
"Attention CRI: You're no longer relevant"
The limitations of CRI as a measurement system are well known. It is a method based on color saturation and has the ability to create reduced—and even negative—values when the test source could be considered as superior in it's color rendition to the standard in which it's being compared. This is particularly true with solid state lighting and for those of you unfamiliar with CQS, it's a proposal for rating LED light quality that more accurately represents the color rendering qualities of the source and is intended to be an improved predictor for colors that have a high red content, such as skin color.
One of the main issues with CRI is that it averages 8 colors (which have a low to medium chromatic saturation) to obtain a ranking. This means that even if a lamp renders a few colors poorly, the CRI can still remain high, as long as those poorly rendered colors are not one of the 8 colors that are averaged. Read more…
"Are dimmable LED lamps as mythical as unicorns?"
The typical story: You purchase an LED lamp that features dimming, but once installed and dimmed, you notice a slight flicker. "That can't be right", you say. You remove the flickering LED and install another one. Crossing your fingers you slide the dimmer switch. "Huh, that flickers too". You pick up the box to double-check that the lamp is dimmable. Check. In desperation, you try installing both lamps in the track. The flickering stops. You add a third lamp to the track. The flickering starts again. "What is going on here?"
Dimmable LED lamps are struggling to, well, dim, because many dimmer controls on the market are designed for incandescent lamps—which use a different technology to dim. Read more…
"3 ways you're being taken for a ride by LED manufacturers"
Big companies aim for mass market appeal–with price being the main factor. Accordingly, every bulb is not designed with top quality components or with an eye to light quality, as it would be impossible to keep prices affordable for the majority. Very few manufacturers make light quality a top priority, and those that do tend to be the smaller ones. Not surprisingly, the top consumer complaint about LEDs is the unsatisfactory quality of the light. So just because a company is big with a highly recognizable brand and sold in a big box store does not mean they produce better products than the smaller, lesser known manufacturers. Read more…
About Leapfrog Lighting
Leapfrog Lighting, is best known for specialized commercial-application LED lamps, for applications where consistent quality is important, such as: retail and display, interior and architectural design applications, industry and commercial space, facility management, hospitals, galleries and museums.
Leapfrog Lighting's lamps provide "improved glare control, light distribution and color consistency," said Canadian Federal Minister Gary Goodyear, at a recent press event announcing an investment in Leapfrog Lighting's ongoing research and development. The Minister of State for Science and Technology praised "measurable improvement on lighting quality required by facility managers, institutions, architects and retail businesses."
The current Leapfrog Lighting product line includes MR16, PAR30, PAR38 and PAR20 lamps that provide industry-leading output power through high-efficiency LED source and driver electronics. The innovative lens design creates a pleasing, glare-free light suitable for use in all indoor and unexposed outdoor down-lighting applications. The lamps also deliver the high CRI and ultra-consistent color temperature control critical to multi-lamp applications in hotels, restaurants, schools, office buildings, museums, galleries, retail operations and other public spaces. With a life expectancy of 40,000 operating hours, these UL-registered lamps will provide more than 27 years of service at 4 hours per day.