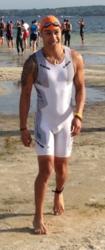 I can never truly express how thankful I am to have the support of the entire Donper America team
Orlando, FL. (PRWEB) May 30, 2013
Jordan Flores, employee of Orlando-based Donper America, has completed his first triathlon in an effort to further promote the company's mission of overall health through fitness and diet. Diagnosed with Cerebral Palsy at birth, Flores competed in the Sprint Distance Race of the Florida Challenge Triathlon, which is often called "The Intimidator" and took place on Sunday, April 21.
"Our team was so excited to be there for Jordan as he tackled his first triathlon. We all made signs and gathered to support him," said Raphael Doromal, vice president of strategy and business development at Donper America. "As a company that believes in fit as a lifestyle for everyone, despite any perceived setbacks, watching Jordan compete."
The Sprint Distance Race at the Florida Challenge Triathlon, which took place at Waterfront Park in Clermont, Fla., featured a 440 yard swim, eight mile bike ride and three mile run. Flores, who had, before committing to train for the triathlon, never ridden a bike or swam, took on the race with ease, crossing the finish line with a huge smile on his face.
"You can accomplish anything with hard work and dedication," Flores commented. "I can never truly express how thankful I am to have the support of the entire Donper America team."
"Jordan has truly spearheaded the health and fitness movement at Donper America," Doromal continued. "A number of our employees have started a Nike Run Club, and are training for triathlons themselves. Even our customers have been motivated by Jordan, too."
In honor of his amazing accomplishment, Donper America will be giving a donation to the foundation of Flores' choice in his name.
To find out more about Donper America visit, http://www.donperamerica.com.
About Donper America
Founded in 1966, Donper is a globally recognized refrigeration manufacturer with more than $1 billion in annual sales. Donper America was launched in 2008 as the North American division and has created consultative brands to provide solutions to the frozen dessert and beverage industry. These brands work as strategic partners that deliver profitable solutions to verticals such as convenience stores, hotels, restaurants, franchises and frozen yogurt shops.
Donper America continues to expand upon its foodservice products which include batch freezers and frozen yogurt machines among other offerings. For more information about Donper America, visit http://www.donperamerica.com.