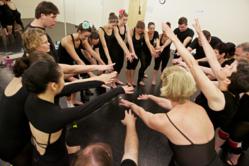 White Plains, NY (PRWEB) May 30, 2013
The Steffi Nossen School of Dance (SNSD) this summer celebrates its tenth year of offering a unique dance experience to children and adults with developmental and physical disabilities in Westchester County. The school's "Moving Wheels & Heels" program is an inclusive one week adaptive dance program for adult students, with or without disabilities, to participate in classes that foster the exploration of creativity and expression through movement.
The choreography is designed to teach technique while also improving range of motion in a supportive environment that encourages students to be comfortable, and feel safe to physically express their artistic creativity. "The program is wonderful; the students are inspired by the work that happens," said Nancy Lushington, a Moving Wheels & Heels instructor. "It provides all of the participants, those with and without special needs, the opportunity to collaborate, to share creative work, to have a voice and to communicate physically. It provides an important outlet for self-expression."
The program, which runs June 17 – 22, features live music and a culminating performance for families and friends. "Moving Wheels & Heels" will be followed by Steffi Nossen's Dance Camp for Children with Special Needs, Monday, June 24 – Wednesday June 26.
"Steffi Nossen, the school's founder, believed that anyone can dance — and everyone should!" said Executive Director Jeannie Aplin. "We are thrilled to continue offering this unique, powerful program and invite all students to join this community to experience the art and joy of expression through movement."
In addition to its special needs programming, SNSD's Summer Dance program includes intensives in Hip-Hop and Break Dance, Modern, Ballet, Jazz, Pilates, Yoga, Repertory and Composition. A Summer Dance Master Series featuring 10 performing professionals teaching a variety of dance techniques– including Theater Dance, Classical Indian, Tap and Jazz is also on the roster.
For additional information, or to register for Moving Wheels & Heels and the other Summer Dance programs, please contact Kathleen Fitzgerald at 914-328-1900 or info(at)steffinossen(dot)org. Students participating in four or more weeks are offered a $100 discount. Steffi Nossen School of Dance is located at 216 Central Avenue, White Plains, NY. To learn more, visit http://www.steffinossen.org.
About Steffi Nossen School of Dance:
Founded in 1937 by dance legend Steffi Nossen, the Steffi Nossen School of Dance offers a strong community-minded and leadership-focused educational model with developmentally appropriate dance instruction and performance opportunities for all ages and abilities. With locations in White Plains, NY and Chappaqua, NY, Steffi Nossen encompasses a range of dance forms including modern, ballet, jazz, tap, hip hop, and world dance forms with special offerings in yoga, pilates and composition. Live musical accompaniment for a majority of classes is offered. The school is owned and operated by the Steffi Nossen Dance Foundation, a not-for-profit dance advocacy and community outreach organization, which seeks to foster the arts in Westchester County. Through the support of the Foundation, the school enables all students, including those with special needs, the opportunity to participate in their extensive programs and classes in a non-competitive environment. A generous financial aid and scholarship program supports those with significant economic challenges. With a sterling reputation in the industry and a rich 76-year history, Steffi Nossen is a leader among dance schools, focusing on the growth of students' mind, body, spirit, and character.