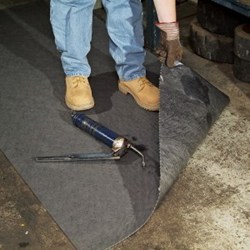 "Since using the PolyBacked Roll mat, our floors have kept clean and safe. We no longer have to worry about our mechanics safety from accidental slips."
Lake Oswego, OR (PRWEB) May 31, 2013
Facilities that work with oils, grease, water, and other types of liquids are in jeopardy of creating slick floors that could become dangerous to workers and anyone entering the area. Spillkitcentral.com is now offering Universal PolyBacked Rolls that shield and protect floors and work surfaces by absorbing fluids without allowing them to penetrate the non-slip poly backing.
The strength of these fine fiber mats combines with the liquid-stopping power of an impenetrable, chemical-resistant poly backing for liquid and stain-free floors. Poly backing also provides non-skid characteristics for safety.
The top and bottom mat layers are built of densely-woven, small diameter strands of fiber to increase surface areas which enable the mat to quickly soak up liquids such as oil, coolants, solvents, and water before they can spread.
The PolyBacked mat has a layer of MeltBlown polypropylene ultrasonically sandwiched between two fine fiber layers. Sonic-bonded dimples add fast-wicking power and strength. The three ply construction mat is durable enough to resist heavy foot traffic for longer wear and fewer change outs. The large diameter MeltBlown polypropylene fibers create a high-loft inner layer that absorbs high volumes of liquid fast.
Businesses that use this product can be assured they are in compliance with OSHA regulation 1910.22(a)(2) that specifies the floor of every workroom shall be maintained in a clean and, so far as possible, a dry condition. Where wet processes are used, drainage shall be maintained; and false floors, platforms, mats, or other dry standing places should be provided where practicable.
A garage mechanic commented, "Since using the PolyBacked Roll mat, our floors have kept clean and safe. We no longer have to worry about our mechanics safety from accidental slips."
For more information about Universal PolyBacked Rolls, please visit http://www.spillkitcentral.com/ or call toll-free (866)777-1360 to speak with a professional representative.