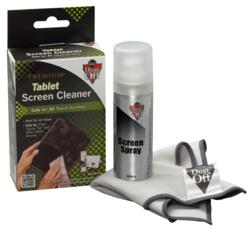 Branchburg, NJ (PRWEB) May 30, 2013
Dust-Off®, the leading brand of consumer electronic cleaning products, is now providing consumers with a variety of cleaning accessories for Dads and Grads to ensure their new technology gifts are dirt and grime free. Dust-Off's cleaners will keep all their latest tech gifts working and looking like new.
Laptops, tablets, tools and tech-related products of any sort are the perfect gift to buy, whether it's that special gift for Father's Day or that long-awaited graduation present. Dads will use power tools in the yard while the new high school graduates will have their laptops all equipped before heading off to college. Consumers spend a lot of time and money picking out these products and it is important that they are kept in good condition. Dust-Off offers everything to ensure their gifts are protected, clean and feel like new.

Dust-Off's all-in-one Laptop Cleaning Kit is ideal to keep a laptop looking and running like new. With kids going to college for the first time, the constant travel and moving can really do some damage to their laptops. This kit includes 1 – 3.5oz general application duster for keyboard cleaning, 1 – Screen Shammy to use with the 1 – 4oz Premium Screen Spray for the screen, and 4 – Cleaning Swabs for those hard to reach places.
Dust-Off's convenient Portable Smartphone Screen Cleaning Kit for on-the-go cleaning includes a Screen Spray Pen that can easily fit into a purse or travel bag and a Microfiber cloth to use with the spray to keep your smart phone from accumulating unhealthy bacteria and fingerprints.
Dust-Off's Tablet Screen Cleaning Kit is a safe and efficient way to keep the fingerprints, dust and dirt off consumer's tablets. The package includes the Premium Screen Spray and the Screen Shammy Microfiber Cloth. The screen spray is safe to spray directly onto the tablet and the cloth is machine washable for repeat use.
If power tools are more your Dad's style, Dust-Off's Non-Flammable Disposable Duster is perfect for cleaning out his new tools. With all of the sawdust and dirt that can linger in his work shop, the Dust-Off Non-flammable Duster is 100% ozone safe and helps the power tools operate safely and efficiently.
To watch more on cleaning your electronics, visit our Dust-Off Educational Videos. All of Dust-Off's screen cleaning products are currently available and can be purchased at http://www.Dust-Off.com/products.
About Dust-Off®
Manufactured by Falcon Safety Products Inc., a world leader in compressed-gas technology, Dust-Off offers the most comprehensive line of dust removing and preventive maintenance products for consumer electronics and home or office equipment. Dust-Off compressed-gas dusters are one of the most versatile cleaning accessories available to consumers today and have long been a staple for the care and maintenance of computers and other electronic equipment. For additional information, please visit http://www.Dust-Off.com or follow on Facebook at http://www.Facebook.com/KeepitDustOff.