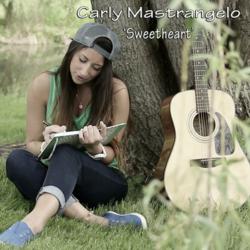 "When Matt got in touch with me saying he loved the song and suggested a few ideas for the video, I was blown away. I thought, 'it can't really be this easy.' But it was. After a long conversation we knew we had to work together."
New York, NY (PRWEB) May 31, 2013
In somewhat of an it-takes-a-village approach to video making, Carly Mastrangelo is joining forces with eTalentShowcase.com and Inspire Me Pictures to make her first-ever music video. The young artist was discovered when Matt Valluzzi of Inspire Me Pictures, a video production company, heard Mastrangelo's song on eTalentShowcase.com. "I find lots of interesting new songs and artists on the site," Valluzzi says. "When I heard "Sweetheart" the video treatment for the song came to me instantly. So I reached out to Carly via her profile," he explains.
In a bit of kismet, the young artist had just started looking for a production company to work with. "When I put my profile on eTalentShowcase.com I thought I might get a few new fans, maybe make new friends who are into the same music, but I never thought about connecting with a producer," says Mastrangelo. "When Matt got in touch with me saying he loved the song and suggested a few ideas for the video, I was blown away. I thought, 'it can't really be this easy.' But it was. After a long conversation we knew we had to work together."
eTalentShowcase.com stepped in to form the trio after Valluzzi mentioned the connection to eTalent's vice president of marketing, Edward Olimpio. "We were just chatting about business and Matt mentioned this up-and-coming project. Once I listened to the song, I called him back and said 'we want in; how do we partner with you on this,'" says Olimpio.
"When we see talent of this caliber, we do all we can to drum up exposure and promotion," Olimpio says. "We support the artists on our site 100 percent."
With the trailer complete and a marketing and promotion plan in place—courteous of eTalentShowcase—the music video will debut Friday, May 31st at 12:00pm here. "So many young artists struggle to get a first video out, says Mastrangelo. "I'm so fortunate to have found an experienced team that's gone above and beyond to ensure that this video is all I imagined it would be. And it all started with my profile." There aren't many musicians who have the money and manpower it takes to really promote themselves, notes Mastrangelo. "You've got to find alternative ways to fuel your career by using sites like eTalentShowcase. With any luck, it will surpass your expectations. It did for me."
View the video for "Sweetheart" here.
About eTalentShowcase.com
ETalentShowcase.com is a social media site that provides artists and entertainment industry professionals with powerful, intuitive tools to connect, promote and prosper online. The site offers job listings, free profiles, original content, contests and a base of active, engaged fans. eTalentShowcase, Where Talent Gets Discovered.