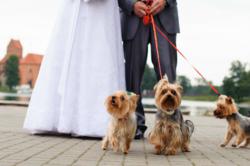 This is a glorious, once-in-a-lifetime day; of course you want your furry family member there.
King, NC (PRWEB) May 30, 2013
June is still the most popular month for weddings, according to TheKnot.com and WeddingChannel.com's 2012 Real Weddings Survey. With more than 70 million pet owners in the United States many couples tying the knot this summer may join the growing trend of including pets in the bridal party. For brides and grooms who want their four-legged friends by their side on their special day, Pet Sitters International (PSI) advises that using a professional pet sitter can be a huge asset.
Celebrities Adam Sandler, Carrie Underwood and country superstars, Blake Shelton and Miranda Lambert, have all included their dogs during their nuptials. But you don't have to be famous to have your pet in your wedding. According to PSI, using the services of a professional pet sitter can help you and your pets feel like superstars on your big day.
"Pets are becoming an increasingly important part of the family unit," said PSI Founder and President Patti Moran. "So it's no surprise that more couples are choosing to include their pets, especially dogs, in their weddings. I think this is a trend we will continue to see for years to come and a professional pet sitter can make sure that both pet and pet owner enjoy the experience."
Your pet's safety and well-being should be the most important factors when deciding whether or not to include him in the wedding festivities.
"Make sure that this is a good fit for your wedding," advised Tammy Kubo, PSI member and owner of Hawaii Pet Nanny in Honolulu, HI. "This is a glorious, once-in-a-lifetime day; of course you want your furry family member there. However, if your pet is not comfortable around other people, children or large crowds you may want to consider having your pet with you only at night after the reception. If there is any question about the pet being overwhelmed, I suggest having him only in the wedding photos."
The next factor to consider is your wedding venue. Be sure to check in advance if pets are allowed or get special permission to have one on the premises. Also, be considerate of wedding guests who might have allergies, by alerting them in advance that a dog will be on site for the ceremony. For outdoor summer weddings, the heat can also be a concern, particularly for dogs that are overweight, older or brachycephalic (short-snouted breeds such as pugs). Be sure there is a cool place for the dog to rest out of the heat.
Having your pet in your wedding can be a unique and personalized way to celebrate your marriage, but a pet needs a lot of attention that you or a guest may not be able to provide on such a busy day.
"Definitely hire a pet sitter who knows how to handle dogs and make sure this person wouldn't otherwise be invited to the wedding," suggested Jena Howard, PSI member and owner of Muddy Paws in Woburn, Mass. "You don't want to have a guest working at a wedding."
A professional pet sitter can assist with everything from transporting the pet to and from the wedding, to overseeing his participation in the photographs and caring for the pet after the ceremony.
PSI member Nicole Brown, owner of Miami Pet Concierge, has assisted with five pet-friendly weddings so far with another one scheduled for October. Her services have included pet transportation, finding doggie tuxedos and getting the dog into his wedding attire prior to the ceremony. Keeping the pet out of the way of guests and making sure he has food, water and potty breaks as needed are vital services that she provides. Brown also offers assistance for brides who want to practice with the pet during the rehearsal. Her advice for pet owners planning to include a pet in the wedding party is, "Practice and then practice some more."
For a couple with pets, a pet sitter delivers invaluable services to facilitate a pet-friendly wedding and stress-free experience for all involved. Most importantly, a pet sitter provides peace of mind to the bride and groom that their beloved pet is well-cared for during the ceremony, reception and the honeymoon.
To find a local pet sitter to assist with a wedding or any other pet-sitting needs, visit PSI's Official Pet Sitter Locator™ at http://www.petsit.com/locate.
About Pet Sitters International
Pet Sitters International (PSI), a membership organization for professional pet sitters, was founded in 1994 by Patti Moran. Her book, "Pet Sitting for Profit," is considered the leading written authority on pet sitting. PSI is the world's largest educational association for professional pet sitters, representing more than 7,000 independent professional in-home pet-care businesses in the United States, Canada and abroad. PSI provides members with access to affordable bonding and liability insurance as well as educational resources that include a comprehensive Certification Program, Pet Sitter's WORLD magazine, The Scoop e-news and PSI's annual Quest for Excellence Convention. For more information, visit http://www.petsit.com, home of the Official Pet Sitter Locator™ or sign up to receive The Scoop on Pet Care. Visit the PSIStoreOnline, the largest specialty retailer of products for pet sitters and pet-sitting business owners.