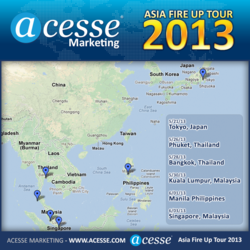 Minneapolis, MN (PRWEB) May 30, 2013
The Acesse Team will be visiting Kuala Lumpur, Malaysia for its fourth conference. After successful conferences in Tokyo, Phuket, and Bangkok, Acesse is excited to meet its newest Members in Malaysia.
Acesse President, Bob Kinsella, CTO, James Wong, and Top Sales Leader, Annie Zhang, will be keynote speakers at the Malaysia business conference. They will present to the attendees Acesse's state-of-the-art Online Advertising and Internet Products and Services for individuals and small businesses.
Founder Steve Renner, CFO Amy Ayd, and Corporate Council Peter Wold will provide special video messages to the audience.
The Acesse Team will give in-depth presentations about Acesse's newest Mobile Services and Business Services, including a demonstration on how to use the new Mobile Site Builder. All of Acesse's Products and Services are extremely affordable, and are designed to be user-friendly, for business owners of all experience levels.
So far, during the Acesse Asia Fire Up Tour 2013, the Acesse Team has seen a great reception of its new Internet Products and Services, including the Mobile Site Builder and Business Listings. Many new and prospective members will attend this free, open to the public business conference. Acesse is enthusiastic about meeting and growing its team in Malaysia.
The Acesse Fire Up Tour 2013 will be visiting the Philippines and Singapore for its final conferences. The Tour is inspiring, and educational. Acesse brings not only great Internet Products and Services to small businesses and individuals across Asia; it is also helping to change people's lives through their business opportunity.