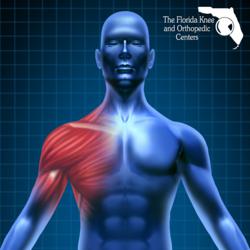 They just want to get back to the activities they love as quickly and safely as possible
Clearwater, FL (PRWEB) May 30, 2013
Thanks to recent advances in arthroscopy, many common shoulder problems can now be fixed using similar methods that revolutionized the treatment of knee problems. The Florida Knee and Orthopedic Centers (FKOC) have a staff of experienced orthopedic surgeons that are arthroscopic experts and highly-trained in treating shoulder pain with minimally-invasive procedures like shoulder arthroscopy. Many common shoulder problems, such as impingement syndrome, can quickly be treated with this revolutionary outpatient surgery.
Treatments for shoulder pain have been extensive and uncomfortable for patients in the past involving complex surgeries and long hospital stays. However, shoulder arthroscopy is now being performed as an outpatient procedure at hospitals or outpatient surgery facilities around the world. For most shoulders, the average arthroscopy will take less than one hour to complete. This minimally-invasive procedure is commonly used to treat shoulder pain caused by bursitis, tendonitis, instability, torn cartilage, rotator cuff tears and more.
The experienced orthopedic surgeons at FKOC ensure patients that the after-effects of shoulder arthroscopy are actually quite minimal. However, the doctors would like to provide a few tips for a quick recovery and returning to an active lifestyle. One of the most important recovery guidelines is to carefully and cautiously tend to the wound. Swelling, pain and/or redness of the shoulder is common with recovery and can be treated with some at-home cold therapy. Apply ice to the surgical site for twenty minutes and then remove the ice for twenty minutes. This cold therapy technique should be used several times a day and can be extremely helpful in reducing pain and swelling after surgery. A regular, low-impact exercise program can also be a big part of a full and complete recovery as long as it's been approved by the patient's orthopedic doctor.
Revolutionary enhancements in arthroscopy and shoulder surgery have provided less-invasive solutions to severe pain caused by shoulder problems. By using a pencil-sized arthroscopic camera through a very small incision, orthopedic surgeons are now able to perform surgical procedures in a minimally-invasive fashion. This results in a shortened recovery time, smaller incisions, wider treatment options and the ability to conduct shoulder surgeries in an outpatient facility. "Patients are extremely pleased to find out that they are candidates for minimally-invasive shoulder arthroscopy. They just want to get back to the activities they love as quickly and safely as possible" stated a representative from The Florida Knee and Orthopedic Centers. Patients recovering from shoulder arthroscopy can ease the recovery process by utilizing a doctor approved low-impact exercise program, cold therapy and cautious wound care.
About Shoulder Arthroscopy
Shoulder arthroscopy is a minimally-invasive outpatient procedure that requires less than one inch incisions. This procedure allows the orthopedic surgeon to see and work inside the shoulder joint. Shoulder arthroscopy can be used to treat impingement syndrome, instability, torn cartilage, rotator cuff tears and more. This procedure is commonly offered when shoulder pain cannot be adequately treated with medication, physical therapy or activity modification. Learn more about this less-invasive method for treating shoulder pain and problems at http://www.fla-ortho.com/services/your-shoulders/.
About The Florida Knee and Orthopedic Centers
The Florida Knee and Orthopedic Centers, established in 1983, has a national reputation for excellence in orthopedic innovations and state-of-the-art surgery. A team of orthopedic specialists treat patients at two locations on Florida's Gulf Coast. The Florida Knee and Orthopedic Centers is a multi-site group orthopedic surgical practice specializing in knee, hip and shoulder problems with an emphasis on joint resurfacing (replacement) and arthroscopy. You can learn more about this orthopedic practice by visiting their website at http://www.fla-ortho.com/.