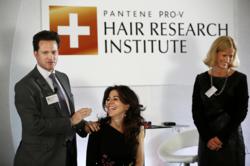 "Cosmetic thickening treatments like the new AgeDefy line are a promising option for millions of women, including younger women with subtler signs of aging like a gradual loss of volume in the ponytail." -- Dr. Alan Bauman
Boca Raton, FL (PRWEB) May 30, 2013
Internationally renowned hair loss expert Alan J. Bauman, M.D. was in Edinburgh, Scotland recently as one of the key speakers for the European launch of Procter & Gamble's new "AgeDefy" hair care line. The new AgeDefy line, part of its Pantene Expert Collection, is specifically designed to address the multiple signs of aging hair, including the appearance of thinning. Dr. Bauman was also a featured panelist on the Pantene Hair Research Institute's interactive Aging Hair Forum for the international press.
Bauman also appeared with other renowned experts such as Dr. Jeni Thomas and Dr. Marianne LaFrance, celebrities like supermodel Gisele Bundchen and actor Courtney Cox, as well as celebrity stylists Sam McNight and Danilo at Pantene AgeDefy launch events earlier this year held in Sao Paulo, Beijing, Boca Raton and New York City.
"The new AgeDefy line is an excellent cosmetic option for women with noticeable signs of aging hair, including thinning," said Bauman, founder of Bauman Medical Group in Boca Raton. "The Thickening Treatment, which is part of this line, is breakthrough technology that has been clinically proven to add thickness to each individual hair fiber, helping to reduce the appearance of thinning and provide more coverage to the scalp without the stiffness or stickiness of other volumizers or the downsides of powders and cover-ups. What we proved is that small changes in hair diameter add up to major differences in how your head of hair behaves."  
When used as a complete regimen, the AgeDefy line addresses a number of other signs of aging (breakage, split ends, frizz, gray hair, dryness and lackluster color) to make hair look and feel 10 years younger.
"For many women, a full, thick, shiny and healthy-looking head of hair is the key to achieving a more youthful look, as it is hair that frames the face and creates an impression from across the room," Bauman said. "How old a person looks often has less to do with facial wrinkles and a lot more to do with signs of prematurely aging hair. Cosmetic thickening treatments like the new AgeDefy line are a promising option for millions of women, including younger women with subtler signs of aging like a gradual loss of volume in the ponytail."
In the US alone, it is estimated 30 to 40 million women suffer from hair loss – and 82 million women could be affected by signs of aging hair. The US hair-care product market is valued at $11 billion and American consumers are estimated to spend over $1 billion a year on hair loss treatments.
But hair loss, particularly when it comes to women, is about more than a number. Female pattern hair loss and thinning can be especially damaging to a woman's self-esteem. In Bauman's 16 years of treating female patients, he's found that hair loss can have extremely adverse effects on women's state of mind - ranging from low self-esteem and feeling 'unattractive' to serious depression and social isolation. Therefore, while cosmetic products don't address the underlying medical and hereditary hair loss issues, they are an important adjunct to medical diagnosis and treatment for hair loss because of their immediate benefits for women with thinning hair. "In my practice, we recommend AgeDefy Hair Thickening Treatment to patients so they can feel an immediate benefit and 'psychological boost' while they are undergoing effective medical hair growth treatments whose benefits can take more time to measure and appreciate," Bauman said.
Bauman adds that "although the Hair Thickening product does not address the underlying causes of androgenetic alopecia (hereditary hair loss), weaker hair fiber production by the hair follicles or severely diminished density that might require hair transplantation, we recommend AgeDefy Hair Thickening Treatment as a proven adjunct to our medical hair regrowth regimens to help our patients make the best of the hair they have."  
Bauman and his Boca Raton-based Consulting Division were a key part of the early research and consumer testing for the new AgeDefy Advanced Thickening Treatment by Pantene. The 'blind' testing was done in South Florida over 18 months, involved almost 100 female patients and included scientific cross-sectional hair bundle measurements to verify the product's effect. The unique combination of niacinamide - a well-known anti-aging 'powerhouse' for skin - in addition to caffeine and panthenol was shown to thicken and improve the performance of each individual hair fiber - equal to adding roughly 6,500 new strands to a woman's head of hair. Most patients felt significant improvement after a single application. After 12 weeks, 83 percent of the trial participants reported their hair felt thicker as a result of the daily treatment. "My hair has thickened with this product and it makes me feel better about myself and in control of my hair," said Carol Martinez, one of the patients who completed the consumer trial. "I can't see my scalp as much. I went from constantly seeing my scalp to not noticing it." Martinez's reaction was repeated by many other patients in the trial, who often used terms like "thicker," "stronger" and "easier to manage" to describe their hair after using the product. Bauman's hair bundle measurements using the HairCheck trichometer confirmed that the Thickening Treatment improved average hair thickness in patients by more than 6 percent in six weeks, over 10 percent on the 'vertex' (or crown) and almost 8 percent on the frontal area of the scalp in 90 days.
Before the trial, Bauman was skeptical of how a 'cosmetic hair thickener' would perform. "What surprised me as the trial went on was how much the patients liked it almost immediately, and how determined they were to continue with it even after the trial was over... they were certainly addicted!" Bauman said.
Bauman has also been selected to the prestigious Pantene Pro-V Hair Research Institute, an elite group of 18 world-class independent hair scientists and senior Pantene scientists who are working together to solve the top hair health problems today.
About Bauman Medical Group's Consulting Division:
Bauman Medical Group's Consulting Division works with Fortune 500s, medical and pharmaceutical firms, product manufacturers and startups to test, launch or expand new treatments, services and devices in the hair growth/hair improvement sectors. Bauman regularly conducts clinical trials, device and procedure 'beta-testing' and performance/efficacy reviews in order to help companies develop, refine and launch quality hair restoration/anti-aging products for the global consumer market.
To learn more about hair loss facts and treatments, visit http://www.BaumanMedical.com.
About Dr. Alan J. Bauman:
Alan J. Bauman, M.D., founder of Bauman Medical Group in Boca Raton, Florida, is a full-time board-certified and internationally renowned hair transplant surgeon whose pioneering work has been featured extensively in the national and international print and television media, such as Newsweek, The New York Times, Cosmo, Vogue, Allure, Men's Health, Today Show, The Early Show, Good Morning America, Extra, Access Hollywood and Dateline NBC.
Dr. Bauman is recognized within the medical profession as top U.S. medical expert on the treatment of hair loss in men and women and recommends that anyone with excessive shedding, diminished hair volume, decreasing density or scalp coverage seek medical advice from a Hair Restoration Physician and obtain a complete medical evaluation, including HairCheck measurements.
An American and International Board of Hair Restoration-certified hair transplant surgeon, Dr. Bauman was the first to demonstrate 'live' the minimally-invasive FUE (Follicular Unit Extraction) method of hair transplantation at the 2003 International Society of Hair Restoration Surgery Orlando Live Surgery Workshop, started with NeoGraft FUE in 2008 and was the first to demonstrate the NeoGraft FUE device at the ISHRS Orlando Live Surgery Workshop in 2010. His practice is divided equally between male and female patients, and Dr. Bauman provides state-of-the-art diagnostic procedures and a multi-therapy approach to the medically treatable condition of hair loss and since 1997 has treated over 15,000 hair loss patients. Dr. Bauman is a member and often a featured faculty lecturer at the American Academy of Anti-Aging Medicine, the International Society of Hair Restoration Surgery Annual Scientific Meetings and other academic medical conferences. To learn more about Dr. Bauman, the latest hair loss facts and treatments, or to schedule a consultation, visit http://www.BaumanMedical.com.