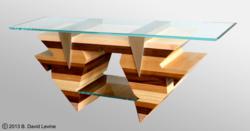 Los Angeles, California (PRWEB) May 30, 2013
Los Angeles, California- Designer B. David Levine recently launched his line of original modern furniture with the debut of his M-Table, first shown at the High Point Market in April 2013.
The M-Table is art that functions as furniture which is designer, B. David Levine's, guiding philosophy. Standing on two V-shaped legs which support a stunning 3/8" sapphire glass shelf and table top, the M-Table is constructed of Poplar, Walnut, White Oak, Alder, and Iroko. The V-shaped wedges that support the glass top are available in smooth silver, gold, or pewter leafing. When the M-Table was first developed, colleagues in his field told Levine that the design could not be built. He disagreed and was determined to bring the M-Table to market.
The inspiration for the M-Table has led to the development of other pieces that will be included in the line and will be available later this year. Levine is also working on a line of modern upholstered furniture that will be available this summer.
The M-Table is on display as part of the new window installation at the B. David Levine Collections Showroom located at 4359 ½ Tujunga Avenue in Studio City. In addition to the original furniture designs, shoppers can browse collections of imported Italian Pottery, Spanish Talavera, blown and fused art glass, and a wide selection of unique treasures from artist throughout the US and abroad.
David Levine is an accomplished architectural, interior, and product designer. With over 30 years of experience in the industry, Levine has a portfolio of work that spans classic and traditional styles as well as modern and contemporary. He has worked throughout the country and travels the world looking for unique sources and inspiration. His philosophy on design is based on the principle that form and function should always be in balance and he is uncompromising in this pursuit.
There is more to come. B. David Levine has plans to show his line at the October 2013 High Point Market. Updates on where the M-Table can be purchased and additions to Levine's product line can be found on his website. For more information or to discuss pricing, contact B. David Levine at 818.623.8641.