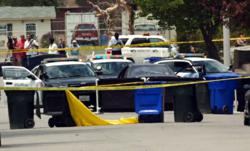 Second fatal shooting by CPD in less than a month.
El Segundo, CA (PRWEB) May 30, 2013
The family of a young man fatally shot and killed by the Colton Police Department (CPD) sought the help of the Layfield Law Firm to seek damages for excessive force, municipal liability, battery, and more. The lawsuit was filed on May 22, 2013 and a trial date will be set at a conference this November in The Superior Court of California, County of San Bernardino, (CIVDS1305425).
According to court documents the incident occurred on San Francisco and Highland in Downtown Colton, CA on July 31, 2012 around 11:00 a.m. According to documents, 21 year old Trevor Taylor was driving an allegedly stolen vehicle, which was spotted by police on 9th and G street. Officers engaged in a high speed pursuit leading the stolen vehicle to the end of a cul-de-sac.
CPD initiated a PIT maneuver, which is used to turn the fleeing vehicle sideways in an effort to get them to stop, on San Francisco Street. Decedent attempted to flee the scene although he was surrounded by CPD. Police Detective Ray Mendez states, "PIT maneuver was used...officers fatally wounded the driver" (The Sun, July 31, 2012).
Court documents state that a barrage of gunfire without warning struck the vehicle hitting the unarmed decedent multiple times in the head and chest. In addition decedents girlfriend's dog who was laying in the front seat was also shot and killed. Police state that the driver ran into one of the patrol cars triggering the shooting.
This was the second fatal shooting by CPD in less than a month, (The Sun, July 31, 2012). The prior incident took place in the beginning of July when another man suspected of driving a stolen vehicle down Mill Street in Colton was also fatally shot.
The Layfield Law Firm seeks to serve those in Southern California and beyond with quality knowledge and capabilities. If you have been a victim of negligence or carelessness due to another individual or entity contact the Layfield Law offices at (800) 558-5679 or visit http://www.layfield-law.com.