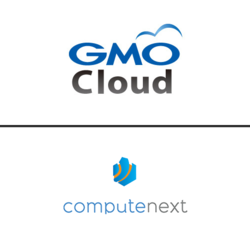 IT organizations will now have access to localized IaaS serving Japan, and Malaysia alongside 25+ other regions readily available for purchase, automated provisioning, deployment, and management.
Bellevue, WA (PRWEB) May 30, 2013
ComputeNext, the operator of the world's largest federated cloud ecosystem and e-commerce platform for IaaS, is officially announcing partnership with GMO Cloud America, a global public cloud provider with a portfolio of value added services and foothold in the Asia Pacific region.
The ComputeNext IaaS marketplace has continued global expansion this month with the addition of IaaS and cloud services across three additional regions. This feature release from ComputeNext, unveils live compute and storage resources from GMO Cloud America, a subsidiary of GMO Cloud K.K. – a leading Japanese hosting company. "Following our recent recognition as a Cool Vendor in cloud service brokerage by Gartner, we have to take a step back and give credit to our partners," said CEO Sundar Kannan, "without such well differentiated cloud providers like GMO Cloud we wouldn't have achieved half as much."
Cloud consumers can now use GMO Cloud resources through the ComputeNext cloud service brokerage platform for rapid discovery and procurement of cloud services such as servers, storage, and on-demand software. Developers and IT organizations will now have access to localized IaaS serving Japan, and Malaysia alongside 25+ other regions readily available for purchase, automated provisioning, deployment, and management on the ComputeNext service brokerage.
Through partnership with ComputeNext, cloud consumers can choose GMO Cloud resources as well as IaaS 25+ additional locations where data privacy laws, latency, or data gravity are a factor. With a unified invoice and API abstraction layer, IT organizations can achieve faster go-to-market with a single API connector to platform-agnostic infrastructure from cloud providers such as GMO Cloud who not only differentiate with unique locations, but offer additional value added services and location based expertise such as Japanese localization, GTM and a suite of associated services to ensure success in new markets.
GMO Cloud America is a full-service, cloud computing solutions provider that aims to help businesses revolutionize their IT environments through automated provisioning of infrastructure over the internet. Being a subsidiary of GMO Cloud K.K. – Japan's largest internet hosting company – enables GMO Cloud America to offer one of the highest-performing and robust cloud solutions and resources in the market. The sophistication of GMO Cloud's technology brings ease to users so that technical skills required are reduced and specialized equipment is no longer needed.
Behind the simplicity is a vast array of features including a resource-type model, pre-configured cloud servers, aggressive Service Level Agreement, a multi-level security strategy, a comprehensive and accessible management panel and much more.
"We constantly have our customers in mind when it comes to our service innovation; this way, we keep abreast with what they really need and provide accordingly", says CEO Mitsuru Aoyama. "This, combined with years of technical expertise in the industry has allowed us to appropriately serve enterprises and organizations that intend to continually evolve to achieve technological advantage."
Case in point is a major Japanese systems integrator, which uses GMO Cloud hosting for running various separate tests without having to worry about affecting the services they provide to their customers. In an interview with their CEO, he had this to say about GMO Cloud, "Cost-performance was the most decisive factor when choosing GMO Cloud's hosting. We compared several services and GMO Cloud was clearly best-placed to combine our need for multiple virtual machines running simultaneously with a comparatively low cost structure." Read more about why customers chose GMO Cloud in a case studies here.
About ComputeNext
ComputeNext – most recently named a Gartner Cool Vendor (2013) in Cloud Service Brokerage, is a Bellevue, WA based cloud-technology company which is pioneering the way organizations search, discover, procure and provision cloud services. As a leader in building federated cloud ecosystems they enable end-to-end transactions across platform agnostic infrastructure. With the belief that a handful of IaaS providers cannot satisfy the world's computing demands, ComputeNext has built their marketplace to deliver a transparent and transactional user experience for the search, discovery, and provisioning of cloud services.
About GMO Cloud America Inc.
GMO Cloud America Inc. is a full-service hosting and cloud computing solution provider and a subsidiary of GMO Cloud K.K., a leading Japanese web hosting company. The company offers global data-centers, premium on-demand infrastructure, solid strategic partnerships and a competitive performance-based pricing model. GMO GlobalSign, SSL global leader and GMO Internet Group Company, secures the company's high-performance network. For more information, please visit https://us.gmocloud.com/company/.
About GMO Cloud K.K.
GMO Internet Group company, GMO Cloud K.K., is a full-service IT infrastructure provider focused on cloud solutions. Established as a hosting company in 1996, the company has managed servers for more than 130,000 businesses and now has 6,000 sales partners throughout Japan. In February of 2011, the company launched GMO Cloud to enhance its focus on cloud-based solutions. Since 2007, the company has also grown its subsidiary, GMO GlobalSign, an issuer of SSL security certificates through offices in Belgium, U.K., U.S., China and Singapore. For more information, please visit http://ir.gmocloud.com/english/.