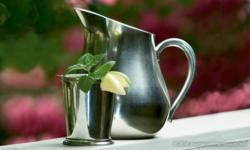 Nashville, Tenn. (PRWEB) May 30, 2013
Tennessee Department of Tourist Development's newly launched Summer microsite provides visitors with all of the information needed to make memories in Tennessee, and an opportunity to win a fabulous trip to West Tennessee.
Whether it's with family, friends or flying solo, a trip to Tennessee this summer will provide memories to last a lifetime. While perusing the site, visitors can read other traveler's stories highlighting the state's authentic music and culture; history and heritage; outdoor adventure; and festival and events. These stories combined with great summer travel deals make planning the perfect trip to Tennessee a breeze.
In addition, visitors can enter the "Making Memories in Tennessee" Sweepstakes for a chance to win an amazing trip for four to West Tennessee. The prize includes:
Private tour of the Tennessee Pewter Studio in Somerville, where handmade fine pewter is crafted and the winner will take home a special gift
Three night stay for four at Lilies Bed & Breakfast in Brownsville
Gift basket with wine from Century Farm Winery
Tour of award winning Tripp Country Ham in Brownsville
Free admission for 4 to Tennessee Safari Park
A meal at Backyard Barbecue in Brownsville
Enjoy an outdoor concert and/or perform on the porch of Bluesman Sleepy John Estes' home at the West Tennessee Delta Heritage Center
Free admission to Tina Turner Tribute Show
Free guided tour of Tina Turner sites in Nutbush
Admission for four to Rusty's TV & Movie Car Museum in Jackson
A meal at Helen's BBQ in Brownsville
Tour of the Historic Denmark Church and Britton Lane Battlefield in Denmark
Movie passes to the Historic Ebeneezer Church in Mercer
Meet the artist and tour the Mind Field, Brownsville
The sweepstakes ends July 25. For a complete list of rules and to enter, visit http://www.summer.tnvacation.com/win/.
Join other Tennessee travelers following us on Facebook, Twitter, Pinterest, Instagram and YouTube (/tnvacation).