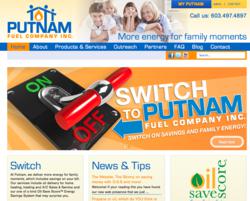 "The Putnam team was adamant that they wanted to go after a new purpose, to bring family energy to a new high in Southern, NH and in doing so they've become Re-Energized!" - Nate Lindquist, Innerspire CEO
Goffstown, NH (PRWEB) May 29, 2013
After partnering with local marketing and growth consulting firm Innerspire of Manchester, NH, Putnam Fuel has undergone an evolution that is nothing short of dramatic and… dare we say, inspiring? Starting with a new logo that they revealed via a New Hampshire wide charity outreach campaign during Christmas 2012, to a brand new website and messaging system that may be the most fresh and welcoming site for any oil delivery company in New Hampshire to date. It's hard to imagine a reason to look at an oil company other than current fuel prices. The first question anyone might ask is how can this residential oil delivery company that offers many of the same services keep their newest and boldest promise now and in the years to come? What we mean is that the new tag line boasts "More Energy for Family Moments".
That's a big switch of what Putnam has delivered for these last several decades. We pinned down Innerspire CEO and spokesman Nate Lindquist who had this message to share, "The team at Putnam was adamant that they spend so much time delivering oil and focusing on customer service that they wanted to work smarter to connect with the community and foster a sense of giving and educating that has never really been a cornerstone in the oil or heating and air conditioning service business. Now it's up to them to keep their promises, but so far, having raised over $1,600 for the Salvation Army and building an energy savings and safety program that launched this month called the Oil Save Score™, this team is well on their way to raising family energy." Karen Henderson, the General Manager of Goffstown Ace Hardware stated, "It's really great to see them committing to helping a good cause and (she is) glad to be a part of it not just now, but all year round."
According to Lindquist, after taking them through a series of workshops that Innerspire has named their GIFTS® Formula process, they drove the leadership to determine specifically what is most exciting about what they do – other than deliver oil and turn a profit. They shared that they started to see their business in a new light. Miles notes that the workshop process was what he called, "a catalyst to creating their new image, exciting colors and a message of charity and a culture serving the community." The proof is in the results. This team is obviously excited about all the changes – so that's a healthy direction.
Betty Martel, the Vice President of Putnam Fuel explained her view of Putnam's transition this year, "We've always worked closely with our customers to be of service, get them their deliveries and offer our services with enthusiasm. It's just different now – we never realized how we could change our entire view of this business. It's like we're a new company and even in a new business in so many ways since our focus has changed and expanded!"
Anyone who has gone through are rebrand may know how directly making a stronger promise shifts how the team thinks. If you want to get a better idea of how Putnam Fuel is deliver their promise already, check out their new website that features the new logo, their tag-line, a sneak peek at the outreach program they launched in 2012 and even a new blog and community calendar that they intend to use to announce their upcoming charity event for fall 2013!
About Putnam Fuel:
Putnam Fuel is residential oil delivery company that also offers a myriad of other services throughout Southern, New Hampshire(NH). It has specialized in heating and A/C system service and maintenance and has enjoyed serving a growing region of Southern, NH since 1937. The firm's current focus is on helping families raise their energy and continues to deliver their message of giving and energy throughout the year as they offer automatic fuel delivery and their Oil Save Score™ Energy Savings System.
For questions or insights, please contact John Miles, President.
Phone: 603497.4897
Or, visit the Putnam Fuel website at http://www.putnamfuel.com
Or, to view a full list of towns and the service area for Oil Delivery, Service and the Oil Save Score™ program, click service area.