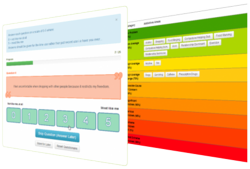 Problems of addiction rarely come singly, and the Shorter PROMIS Questionnaire enables patterns of behaviour to be established.
London, UK (PRWEB UK) 30 May 2013
New research by PROMIS Rehabilitation Clinics to establish an average spectrum of behaviour has enabled the clinic to revise the scoring system used by its addictive tendencies test to more accurately diagnose problem behaviours.
The latest update to the popular online self-assessment questionnaire is a simple-to-use diagnostic tool that provides individuals with a breakdown of their addictive tendencies across 16 categories of behaviour. The severity of these tendencies is scored in the context of what would be considered 'normal' for the general population, providing a more meaningful assessment of potentially problematic behaviours and associated issues.
The addiction test results are delivered immediately and in confidence, making it a useful tool for concerned friends and family to prompt loved ones to seek help.
The Shorter PROMIS Questionnaire (SPQ) is an essential clinical mental health assessment tool for the treatment of a whole spectrum of addictions. The 160-question format assesses multiple areas of concern including alcohol and substance abuse, eating disorders and compulsive behaviours, with the results categorised into nine levels, from 'No Problem' up to 'Most Extreme Problem'.
Previously, the addictions test used the same threshold for each type of addictive behaviour to determine a cause for concern. The new scoring calibrates an individual's results against a predefined average for the population as a whole to deliver more relevant results. For example, a score of 20 for nicotine could be considered average, whereas a score of 20 for caffeine would be at the extreme end of the spectrum.
The development of the new scoring system is part of PROMIS Clinics' on-going programme of research to advance the field of addiction recovery. The clinic is committed to going beyond the presenting problem to diagnose and treat co-occurring issues. Not only can the addictions questionnaire help people recognise problem behaviour, but it can also uncover hidden issues that may be contributing factors to the predominant addiction.
'Problems of addiction rarely come singly, and the Shorter PROMIS Questionnaire enables patterns of behaviour to be established,' explains Professor Geoffrey Stephenson, PROMIS Clinics' Director of Research.
'This is clinically important as it indicates possible routes to relapse, and the development of distinctive approaches to group problems. The test enables the client to view the nature of their difficulties from a broader perspective, and provides an indication of lifestyle changes that might be profitably explored.'
PROMIS Clinics has also updated the test application to make it more user-friendly and optimise it for use on mobiles and tablets. Users are now able to save their progress if necessary and continue the test at a later time. The test is already available online and as a Facebook app, and the recent application upgrades are designed to pave the way for the development of mobile apps to make the test even more accessible to the public.
'We are delighted to see this further refinement of the SPQ,' said Promis Clinics' Treatment Director Robin Lefever. 'The test was one of the world's first questionnaires to identify a broad range of addictive processes and is now more relevant than ever in providing pointers to problem areas that might otherwise have been missed. This latest evolution does a brilliant job of calibrating the questionnaire and showing just how extreme a score really is when compared to the rest of the population. Both clinicians and patients find this quick and intuitive.'
About the Shorter PROMIS Questionnaire - The questionnaire is the only assessment tool that measures 16 categories of addiction simultaneously including alcohol, gambling, shopping, food starving and food bingeing, recreational drugs, tobacco, sex, caffeine, exercise, work, compulsive helping (dominant and submissive), relationships (dominant and submissive) and prescription drugs. Each addictive behaviour has a score of 0-50, determined by the answers provided to the 160 questions. The results for each behaviour are categorised into nine levels, from No Problem up to Most Extreme Problem, with the scaling based on a population average, enabling effective diagnosis of problem behaviours.
About PROMIS Clinics - PROMIS Rehabilitation Clinics have been helping individuals and families recover from addiction and mood disorders for over 25 years in the United Kingdom, catering to both local and international clientele. It is one of the only clinics in the UK to have an all-year-round programme of research, making it a leader in the treatment of addictions, depression and stress related conditions. For more information, please visit http://promis.co.uk/.