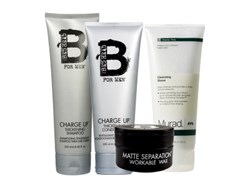 This kit is finally a present my husband will get some use out of!
(PRWEB) May 31, 2013
A number of dads are easy to shop for. They will accept ties, football tickets and even a starbucks gift card but others are not so easy. For those dads who require some thought or even something unique on Father's Day thebeautyplace.com has the perfect gifts.
Father's Day is a day to appreciate Dads fall all the amazing things they have done for their kids. Men have been spoiling the women in their lives for centuries, now it's time to give men the pampering they so deserve. Wives and children what better way to show some love than giving them the tools to pamper themselves all year long.
Part of being a good father is making the right decisions and teaching their kids the right tools it takes to succeed. Now it's finally the child's choice to give their father the right tools to succeed. In celebration of Father's Day, the beautyplace.com has beautiful gift ideas, like their Mr. Right Kit to help make the right choice for their father's day gift. Aside from the usual gadgets, sports equipment or clothes, beauty products are very practical gifts for men. Let's not overlook, men also need beauty tools to keep themselves looking and feeling the best.
TheBeautyPlace.com carries products specifically tailored for men. They carry the CHI for Men,Tigi B For Men and Skincare for Men. The ever-famous CHI hair care line brings CHI Man to satisfy basic daily grooming needs of an active man. Within the CHI Man line, men can choose from hair care shampoos, conditioners, styling products, finishing products and body care products. Check out the line of skin products made specifically for men. The concept of Skincare for Me n products is to minimize the necessary steps that address the common skin concerns men tend to have. Tend to the common men's skin care and hair care concerns with TIGI B for Men. Born from the very popular TIGI hair products brand that offers a wide range of different hair care and hair styling products including TIGI Bed Head products, TIGI B for Men is a line of skin and hair products for men that wash away build-up while strengthening hair. TIGI B for Men features specialty hair products including anti-dandruff shampoo. In addition, there are tutorials available to show men "How to Achieve the Look". They have tutorials for "Mr. Geek" and "Mr. Loud".
Show Dads some appreciation and get them a gift that shows gratitude. Make this year special and unique for them by pampering Fathers the way they deserve.