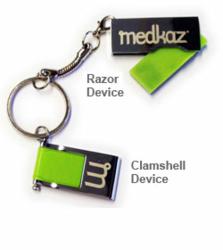 Instead of trying to standardize how providers keep records, we standardize how we manage them. We turn every provider record, irrespective of how it is created or formatted, into a searchable pdf document any provider can read in a browser
Brownsville, VT (PRWEB) May 30, 2013
In February, the Defense and Veterans Affairs Departments stopped trying to develop a single electronic medical record system that would serve all branches of the military and the VA. After spending five years and a billion dollars, they hadn't developed a system that worked.
Last week, Secretary of Defense Chuck Hagel announced that DoD would seek proposals from commercial vendors to provide a system that all military services could adopt. In a May 21st Memorandum he wrote: "Providing high-quality healthcare for current members, their dependents, and veterans is among the Nation's highest priorities. Continuity of care is a key component of quality healthcare, and interoperability between Department of Defense (DoD) and Department of Veteran Affairs (VA) electronic health records is essential to enabling this continuity."
In a letter to Secretary Hagel yesterday, Merle Bushkin, Founder & CEO of Health Record Corporation, creator of MedKaz, wrote: "With all due respect, it makes no sense to standardize on one of today's military or commercial systems. The issue isn't how providers keep patient records. It is if and how easily a provider can access a patient's complete record from all their providers when and where they see the patient.
"Military care providers cannot access a patient's complete record today and even if all branches of the military were to use the same system, they wouldn't be able to tomorrow. That's because civilian providers treat a large percentage of our 30-plus million warriors, veterans and their dependents, and they use many different commercial systems including paper which are incompatible with one another and with the military's systems. In addition, if military personnel or their dependents use non-military long-term care, assisted living or post-acute care facilities, their records won't be compatible either because most of these facilities keep paper records."
He continued: "both our military and commercial medical record systems are Towers of Babel. It is highly unlikely that we can ever build a national health information exchange that captures a patient's complete record from all their providers on the fly, that will enjoy 100% provider participation, overcome their disparities and be financially viable. HHS and ONC are trying mightily to do so, but many knowledgeable people think the problems are insurmountable."
Mr. Bushkin explained that "At Health Record Corporation (HRC) we've solved this seemingly intractable problem. We do so by turning the conventional approach on its head. With MedKaz, a patient's records don't 'follow' the patient; they're with them all the time.
"Instead of trying to standardize how providers keep records, we standardize how we manage them. We turn every provider record, irrespective of how it is created or formatted, into a searchable pdf document any provider can read in a browser.
"And instead of requiring providers to access a patient's records on the fly via the Internet, we aggregate them from all their providers on a distinctive mobile device, called MedKaz. The patient owns and carries it on their key chain, in their wallet or wears it like a dog tag. It contains their complete record and history plus the application to manage them. It avoids the security, privacy and identification issues plaguing cloud-based systems.
"When the patient sees a care provider, they give them their MedKaz. It saves the patient from having to fill out the same forms over and over. It saves the provider time. And the provider, as needed, can electronically sort, search and access their patient's records in only two or three clicks to understand their patient's issues, treat them, and coordinate their care. This enables them to improve the quality of care, avoid medical mistakes and unnecessary tests, and reduce the cost of care. Either the provider or HRC updates the patient's MedKaz after each encounter."
Mr. Bushkin concluded: "The cost to equip each of the 30-plus million people covered by the DOD and VA with their own MedKaz will be less than $5 billion. The annual cost to maintain it and update patient records will be less than $2.5 billion. The benefits in the form of improved coordinated care, reduced pain and suffering, lives saved and lower costs, are incalculable but well worth this cost, as are the benefits that will flow from changes to our healthcare delivery system that MedKaz will make possible."
He then urged Secretary Hagel to consider adopting MedKaz for our military and suggested we prove its worth by testing it with several thousand military personnel and dependents.
About MedKaz and Health Record Corporation:
The patented MedKaz is a revolutionary system that turns the conventional approach to healthcare IT on its head. It puts the patient at the center of their care by aggregating their lifetime medical record in one place, owned and controlled by them, where care providers can access them as needed. MedKaz is the only system that accepts records in all formats from all sources, overcoming record incompatibility; is secure from Internet breaches, easy to use, affordable, and available now; and doesn't require government subsidies or the construction of extensive electronic networks to exchange records. It lives alongside care providers' systems, whether paper or electronic, and fits seamlessly into their established workflow, enabling improved quality and coordination of care, elimination of mistakes and unnecessary testing, and cost savings. Medkaz is a product of Health Record Corporation, based in Brownsville, VT.