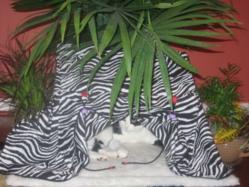 An indoor Jungle Gym for Kitty
(PRWEB) May 30, 2013
What makes a kitty feel important? Earning his keep. Give them an environment closest to the outdoors where real cats hunt. Imagine kitty in a real jungle where lots of things move and make noise. This would be a paradise for most cats. The Gypsee is a way to address these most primal needs in a safe place. The Gypsee is available online today at http://www.smoochdoggie.com.
As one of nature's most prolific hunters - the domestic house cat lives to hunt. Whether looking for real or pretend prey, the feeling of being invisible creates a sense of intrigue for these playful creatures. Appealing to a cat's instinct is the secret built in to every Gypsee playhouse.
Relying on stealth while hunting is one of a cat's greatest assets. The colorful cover that attaches to the Gypsee's tent like frame is a see through fabric that provides just the right amount of light for movement to be detected. And movement is what drives cats wild with anticipation. For owners who encourage interactive play, this is one playhouse that is made for fun.
In addition, the free flowing fabric allows kitty to slide through the sides without restraint encouraging safe play for even the most rambunctious cats.
The colorful covers available in a zebra black and white print or a tie-dyed "Hippie" version make a bold statement attractive enough for any home.
The Gypsee is designed to be portable as its gypsy tent like appearance implies. Having a playhouse that is portable makes it easy to find just the right location to interact with kitty and keep them near.
A cat can sleep up to 16 hours a day. The Gypsee with its soft faux fur mat offers comfort and privacy to match its stylish looks. The concept of a home within a home where long cozy naps and playtime are combined make for the ultimate playhouse for cats of all ages.
The quality handcrafted components are easy to clean and made with the highest grade materials to provide lasting years of enjoyment for pets and owners alike.
To find our more visit http://www.smoochdoggie.com