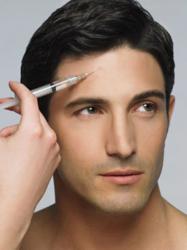 Vienna, VA (PRWEB) May 31, 2013
The "D.C. Butt Doctor", Dr. Shlomo Widder, has long been an advocate of male plastic surgery. Specializing in a number of cosmetic procedures for men, Dr. Widder is now seeing more male patients than ever. As plastic surgery for men continues to rise in popularity, it is becoming evident that cosmetic enhancements are not just for the ladies.
The number of men requesting plastic surgery has skyrocketed in recent years. According to the American Society of Aesthetic Plastic Surgery (ASAPS), nine percent of all cosmetic procedures done in 2011 were done on male patients. This marks a 121 percent increase from the number of males receiving plastic surgery in 1997, when feminine connotations associated with cosmetic surgery deterred men from getting cosmetic procedures done. ASAPS found liposuction, rhinoplasty, eyelid surgery, gynecomastia, and ear reshaping to be the most popular amongst men. In addition to his famed buttock augmentations, Dr. Widder has given male patients tummy tucks, liposuction, face lifts, eyelid tucks, nose surgery, chin implants, pectoral implants, calf implants, gynecomastia surgery and more.
"My male patients have been ecstatic about the surgery. I once had a male patient who, when he first came in, looked like he could have been seven or eight months pregnant. I did a tummy tuck on him. I also told him about learning a new nutritional approach through the Sugar Busters book, so we approached his weight lost from both the chemical and the mechanical angles. He lost 30 pounds in one month," says Dr. Widder.
In line with the hottest plastic surgery trends for men, males are generally looking to be more defined all over. This year conventional boyish looks that grace the pages of an Abercrombie & Fitch catalog are out and manly, rugged features like those seen on the likes of Jon Hamm are in. As a result men are opting for chin implants, tummy tucks, breast reductions, and modified nose jobs, where the nose is trimmed back leaving small imperfection for a more natural look.
Dr. Widder is the only plastic surgeon in the Northern Virginia area offering buttock implants. The "Butt Doctor" of D.C. has made it his mission to help men and women achieve the perfect posterior.
About Widder Cosmetic & Plastic Surgery:
Serving the Northern Virginia area, Washington D.C. metropolitan area and beyond in cosmetic and plastic surgery procedures for more than 25 years, Dr. Widder is an established member of the American Society of Plastic Surgeons and the American Society of Aesthetic Plastic Surgery. His surgery center is accredited by the AAAASF. Dr. Widder's office provides free consultations at their luxurious 3,300 square foot facility. Their services include Face Lift, Facial Implants, cheek, chin, eyelids surgery, Otoplasty Ear Tuck, Botox and Facial Fillers, Liposuction, Breast Augmentation, Breast Reduction and Breast Lift, Pectoral Implants, Gynecomastia Surgery, Calf Implants, Rhinoplasty, and they're the only plastic surgery center in the area offering buttock implants. For more information about The D.C. Butt Doctor visit: http://www.widderplasticsurgery.com.