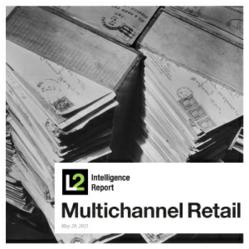 New York, NY (PRWEB) May 30, 2013
Today's retail mix is changing rapidly as people are increasingly buying online. With almost 90 percent of retail sales still done in-store, however, it is critical that retailers and brands connect digital to traditional channels to influence offline purchasing. In L2's latest research study, Intelligence Report: Multichannel Retail, we looked at how 79 prestige retailers and brands have and haven't leveraged digital to drive in-store consumption. Authored by L2 Founder and NYU Stern Clinical Professor of Marketing Scott Galloway, this report includes original data and trend analysis across six prestige industries (Apparel, Department Stores, Watches & Jewelry, Beauty, Home, Footwear) and identifies opportunities and strategies for retail brands to maximize their multichannel effectiveness. By examining email, site, mobile, and search data, L2 determined the brands and best practices that are most effectively removing organizational and technological barriers and delivering a true multichannel experience.
"We believe the most successful organizations will bring customers to the center of their sales strategies and will make the requisite investments in systems, incentives, and attribution models, using digital as the connective tissue." –Maureen Mullen, Head of Research & Advisory, L2
To download an excerpt of the new report, use the link below:
http://l2thinktank.com/research/multichannel-retail-2013
Study Highlights:

Since 2011, Macy's, Target, Marks and Spencer, Brooks Brothers and American Eagle have all created senior-level "Omnichannel" or "Multichannel" positions within their organizations.
Prada, Dior, and Dolce & Gabbana did not send a single email promoting their stores in Q4 2012 or Q1 2013.
Only 22 percent of brands in the study provide real-time inventory integration on their sites to the SKU level at brick-and-mortar boutiques.
Just 1 in 10 retailers and/or brands included in the study offer in-store pickup of online orders.
On average, half of the emails sent by the brands included in the study contained price-discounting.
About L2
L2 is a think tank for digital innovation that helps prestige brands navigate the digital marketing landscape through education, research, and advisory services. The L2 Digital IQ Index® is the global, seminal benchmark for digital performance of brands and the largest and most robust study of its kind. Rankings are published annually across numerous industries, including: Luxury, Beauty, Retail, Travel, Spirits, Auto, and consumer packaged goods. For more information, visit: http://www.l2thinktank.com.
###