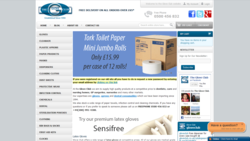 London, United Kingdom (PRWEB) May 30, 2013
Ever since 1994, The Glove Club has been catering to the needs of a wide range of clients in need of high quality, medical grade hygiene products, including latex gloves, nitrile gloves, cleaning products, dental supplies, infection control materials, protective clothing, first aid kits, and waste management products.
The Glove Club team have identified a brand new website as the perfect way of improving the user experience of shopping for hygiene products quickly, securely and transparently. Online customers are set to be able to enjoy a range of new features and functions to make meeting hygiene standards a more comfortable and convenient process.
The areas The Glove Club is targeting for improvement include the layout of the site, a user-friendly checkout function incorporating a variety of different payment methods, a blog to keep customers informed about new products and ranges and excellent social media functionality.
The company also hopes deliver a range of discount codes and offers via its Facebook, Google Plus and Twitter accounts once the new site is up and running.
The refinement of the online shopping experience at The Glove Club ought to be welcomed by all clinics, practices and care homes whose commitment to higher standards means they need a ready supply of paper products, disposable gloves and other consumables.
About Glove Club Ltd
The Glove Club has been a manufacturer, wholesaler and distributor of medical grade disposable products since 1994. Its experience and expertise of supplying products to a wide range of customers makes it a cut above the rest. In its 18 extensive years of business they have been a leader in latex, nitrile and vinyl gloves, all made to a medical grade (AQL 1.5) and many everyday disposables like masks, paper towels and aprons. They supply to dental practices, nursing homes, funeral directors, veterinaries, hospitals, GP's and even the general public.
Users of disposable consumables can contact The Glove Club on 0500 456 832 or by accessing the new website at http://www.gloveclub.co.uk.
Manoj Parmar, Marketing Manager
Glove Club Ltd
+44 208 991 4303
http://www.gloveclub.co.uk