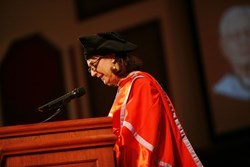 Minneapolis, MN (PRWEB) May 30, 2013
Christians for Biblical Equality (CBE) is proud to announce that Mimi Haddad, president of CBE, has been honored with an honorary Doctor of Divinity degree from Palmer Theological Seminary of Eastern University. In addition to receiving her honorary Doctor of Divinity degree, Dr. Haddad delivered the commencement address for nearly 3,000 family and friends of the men and women who received their doctoral degrees, masters degrees, diplomas, or certificates from Palmer Seminary in the spring of 2013.
"That Eastern University's Board of Trustees voted to award me an honorary Doctorate of Divinity represents a significant distinction for me, given my deep respect for their commitment to faith, reason and justice, and my esteem for the profound way Palmer Theological Seminary advances the gospel in word and deed." said Dr. Haddad, "These are the very ideals that inspire me, heart and soul, as inseparable from the good news of Jesus. I am humbled, grateful and also energized because of this recognition."
Dr. Haddad has served as president of CBE since 2001, is an adjunct professor at Fuller Theological Seminary (Houston, TX), Bethel University (St. Paul, MN), and North Park Theological Seminary (Chicago, IL), and has published more than one hundred articles and contributed to nine books.
Palmer Theological Seminary has awarded Dr. Haddad this degree in recognition of the great and ongoing work that she has pursued throughout her career. Dr. Haddad is a graduate of the University of Colorado and Gordon Conwell Theological Seminary (summa cum laude). She holds a Ph.D. in historical theology from the University of Durham, England. In addition to her leadership of CBE and various teaching roles, Dr. Haddad is part of the leadership of Evangelicals for Justice, is a founding member of the Evangelicals and Gender Study Group at the Evangelical Theological Society, and served as the convener of the Issue Group 24 for the 2004 Lausanne III Committee for World Evangelization.
In its effort to advance a biblical foundation for gift-based rather than gender-based ministry and service, CBE sponsors annual conferences, facilitates local chapters, hosts an online book service, and publishes two award-winning journals. For more information, visit http://www.cbeinternational.org.