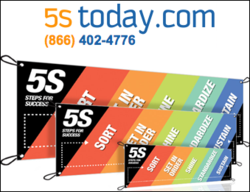 "This innovative system management software also features lean tools that basically help running facilities efficiently," a company rep said
(PRWEB) May 29, 2013
5S Today, one of the leading online system management providers, releases the 5S software that aims to help customers achieve efficient manufacturing methodologies.
The 5S System Management Software from 5S Today includes a single-driven system and can be installed on multiple computers. The management software includes road map guidance that is designed for each of the 5 levels together with printable checklists as well as audit sheets. These printable items display the activities that need to be completed. Also, the software includes a managerial access that enables users to see the progress and status of the program for each of the organization's working areas.
"This innovative system management software also features lean tools that basically help running facilities efficiently," a company rep said. "Business users will easily discover a new way of helping the productivity of lean projects without the use of too much man power and extra work hours."
One of the perks of the software includes red tag information that is made to efficiently manage 5S red tag inventory as well as control. This feature enables users to track, manage and control asset movements and disposition.
The management software also features the use of 6S safety supplies that basically incorporates the 5 S's which include the Sort, set in order, sweep(shine), standardize, sustain and the addition of safety. 5S provides additional products that help company's assist with their 6S safety program. This includes the use of SafetyTac floor tape, flagging tape, full brim hard hats and more.
5S is the name of a workplace organization method that was invented by the Japanese and includes five primary phrases: set in order, sorting, systematic cleaning, standardizing and sustaining. This system describes an efficient way of organizing a workspace for efficiency and effectiveness.
About 5S Today
5S Today believes in bringing the latest system management products for customer's lean projects necessities in the market. The company is one of the most trusted suppliers of quality lean tools, floor signs, floor marking tapes, red tags, 5S safety training videos and more. Today, the company continues to bring best floor marking tapes for 5S program, visual workplace areas, safety programs and lean management. For more information about the company's latest 5S system management software, feel free to visit their official website at http://www.5stoday.com/.