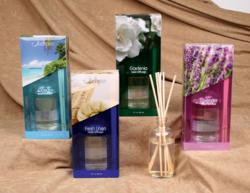 Corporate gifts and gifts with purchase accounts will find a large selection of exceptional products to choose from.
Parsippany, New Jersey (PRWEB) May 30, 2013
Private labeling is a great way to promote any kind of organization, whether it's a small independent retail store or large retail chain. Custom labels help customers relate stores and organizations with exceptional products. Jodhpuri, a home fragrance and home décor brand well known for its outstanding products, is offering its exceptional product line for private labeling. In addition, Jodhpuri is also offering its advanced production and warehouse facilities for contract packaging and 3rd party fulfillment services.
Many Jodhpuri products have already been under private labels with large retail chains across the nation for several years. However, Jodhpuri is now presenting organizations of any size a choice to have their own fully customized labels and packaging on Jodhpuri products. With long-lasting home fragrance and home décor products such as potpourri, candles, reed diffusers, artificial floral arrangements, metal and glass wares, and beautiful centerpieces, Jodhpuri's exceptional product line offers the perfect items for private labeling. Additionally, due to the decorative nature of Jodhpuri's items, corporate gifts and gifts with purchase accounts will find a large selection of exceptional products to choose from.
In addition to private labeling, Jodhpuri is also now offering its services as a 3rd party fulfiller. Jodhpuri's advanced New Jersey production and warehouse facilities are capable of quickly fulfilling orders of any size. Jodhpuri's dedicated year-round staff members are skilled at creating the most appealing potpourri blends and efficiently packaging various products, such as reed diffusers, candles, glass and metal handicrafts, artificial flowers, and much more. Additionally, the company's production facility also has automatic liquid filling machines capable of filling over 40,000 bottles a day with various liquids, such as oils and other non-food grade liquids.
For more information regarding private labeling, corporate gifts, or Jodhpuri's 3rd party fulfillment services, please email info(at)jodhpuri-inc(dot)com.
Jodhpuri Inc. is headquartered in Parsippany, NJ, and has been in business for over 23 years. Jodhpuri is a leading manufacturer and distributor of home fragrance and décor products, such as potpourri, diffusers, incense, artificial greenery, and other related items.