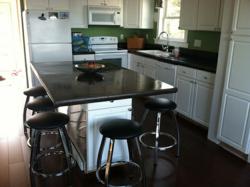 Enter the 2nd Annual Concrete Countertop Photo Contest for a chance to win a Samsung 1080p 32" TV or cash prizes and have your countertop featured on our website!
Clarks Summit, Pennsylvania (PRWEB) May 30, 2013
Due to the fantastic response received last year, Concrete Countertop Solutions is hosting another Concrete Countertop Photo Contest. Photos must include a concrete countertop created using at least one Z Counterform product, including concrete countertop edge forms, concrete countertop mix, concrete countertop finishing tools or other product.
This year's contest will feature the best concrete countertop photos in three categories: Most Creative Staining/Finishing, Most Unique Use of Forms and Best All Around.
Every photo submitted will be featured on the Concrete Countertop Solutions website, entered into a raffle for a chance to win a Samsung 1080p 32" TV and photos with the most votes in each category will compete to win cash prizes and Concrete Countertop Solutions store credit.
How to Enter – Visit Concrete Countertop Solutions on facebook or send pictures to photos(at)concretecountertopsolutions(dot)com.
1. All photos must be of concrete countertops using at least one Z Counterform product.
2. All entries must be submitted before June, 14 2013 at 11:59 PST.
3. Contestants may only enter one photo per category.
4. Each photo can only be entered in one category.
5. The same contestant can enter a different photo in each of the 3 categories.
Official rules here
Concrete Countertop Solutions is proud to provide top of the line concrete countertop products, tools and training for custom concrete countertop fabrication, including the award winning Z Counterform products.