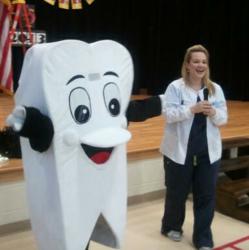 Beaumont, TX (PRWEB) May 30, 2013
Your child spends more time at school than anywhere else except home. Schools can have a major effect on children's health by teaching about health and promoting healthy behaviors. May 20th-May 24th, 2013 was Health Week at Jones Clark Elementary in Beaumont, which featured a daily guest speaker covering topics such as health, nutrition, physical activity, and dental hygiene. "We are doing Cardinal Health Week so our children are introduced to new concepts and so that some concepts that they have already learned are reinforced. Good dental health is something that they've already been introduced to, but we want to reinforce that to make sure that they are doing it and that it sticks in their mind. We also did presentations covering physical fitness, health, and nutrition. The guest speakers covered topics such as diabetes education, exercise options, getting enough rest every night and not spending so much time on the computer or in front of the television-things that will overall help them live a healthier lifestyle," said Janise Bush, parent volunteer with the student council.
Dr. Ashley DeMarco of Gulfside Dental was invited to be a guest speaker during Cardinal Health Week. With the help of 'Pearl', the Gulfside Dental tooth mascot, Dr. DeMarco spoke to the students of Jones Clark Elementary about dental health and maintaining a beautiful smile.
During the presentation, DeMarco taught correct brushing techniques, cavity prevention, and reinforced healthy feelings about a trip to the dentist's office. Dr. DeMarco believes that building trust and confidence in children helps dental visits to be much more enjoyable. "Because most dental fear stems from bad dental experiences as children, we try to promote positive early dental experiences. By helping children develop a good attitude toward healthy dental habits, we will provide them with the tools they will need to properly maintain good oral health throughout their lives," says DeMarco.
Gulfside Dental offers a comprehensive oral health program, including preventative, cosmetic and reconstructive dentistry for all ages as young as six months old. Gulfside Dental also specializes in: bridges and implants, extractions, dentures and partials, braces, emergency dental care, Snap-On Smile, LUMINEERS, and ZOOM whitening. Gulfside Dental accepts all major PPO insurances, most HMO Insurances, Medicaid, CHIPS, Texan Plus, HealthSpring, Care Credit, Visa, Mastercard, and Discover. Gulfside Dental is located at 4179 Dowlen Road in Beaumont, in the Barnes and Noble shopping center, across from Parkdale Mall. For appointments, please call 409-899-4867.