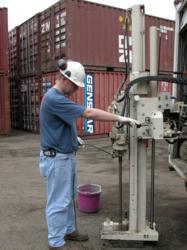 For each location the TarGOST generates a detailed, colorized log that shows the presence of tar/oil DNAPL versus depth.
Fargo, N.D. (PRWEB) May 30, 2013
Dakota Technologies introduces a sub-surface screening service, which uses the TarGOST® (Tar-specific Green Optical Screening Tool) to efficiently delineate multi-component dense non-aqueous phase liquids (DNAPLs). This tool is extremely effective for mapping in-situ coal tar and creosote residuals at former manufactured gas plants and wood treatment facilities.
The TarGOST uses visible wavelength laser-induced fluorescence (LIF) technology to detect the polycyclic aromatic hydrocarbons (PAHs) that are found in multi-component DNAPLs, but are difficult to screen using ultra-violet wavelength LIF systems. Producing 10 to 12 readings per foot, the unit is capable of identifying the heterogeneous distribution of coal tars and creosotes, which is otherwise challenging to delineate by traditional sampling methods. Other contaminants capable of being screened with the TarGOST include crude oils, bunker fuels, heavy distillate, dripolene, biodiesel and some plasticizers.
To deploy the TarGOST, a Geoprobe®, AMS PowerProbe®, cone penetrometer or similar direct-push platform is used to log from 250 to 500 feet per day. As the probe is driven into the ground, the DNAPL's fluorescence is sent through a fiber-optic cable to a detector and laptop computer, so results can be seen in real time, and on-site personnel can begin determining an ideal location for the next testing location. In addition to land deployment, barge operation is also common.
For each location the TarGOST generates a detailed, colorized log that shows the presence of tar/oil DNAPL versus depth. The resulting electronic data logs can be easily incorporated into three-dimensional conceptual site models, which are used to more accurately estimate costs and design remediation of the contaminants.
Those who are interested in utilizing the TarGOST service are encouraged to take advantage of Dakota Technologies' free NAPL analysis, which requires just a few milliliters of representative NAPL.
Besides the TarGOST, Dakota Technologies offers the Dart sampler for tars/oils, UVOST for screening petroleum LNAPLs (fuels), and the SCOST for logging Munsell soil color with direct push.
Since 1993, Dakota Technologies, Inc. has developed and commercialized laser-induced fluorescence systems for the rapid characterization of sub-surface contaminants, such as fuel, oil and coal tar. For more information, contact Dakota Technologies, 2201-A 12th Street North, Fargo, ND 58102, call 701-237-4908, fax 701-237-4926, email stgermain(at)dakotatechnologies(dot)com, or visit the company's website at http://www.dakotatechnologies.com.