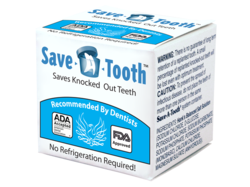 Philadelphia, PA (PRWEB) May 30, 2013
As a key part of its community outreach efforts in the Twin Cities, Park Dental formed an initiative to donate 500 Save-A-Tooth® emergency tooth preserving kits to any local sports teams and high schools in need. The response for Save-A-Tooth kits requests was enormous, as was the recipients' gratitude for the public service. "I walked into my office and there the kits were, sitting in my mailbox, and I just said, hey you made my day…these kits will help," commented a Twin Cities area high school trainer after receiving a set of Save-A-Tooth kits.
Save-A-Tooth kits have been engineered to increase the probability of saving a knocked out tooth to 92 percent, a vast improvement in technology from storage in milk which only yields a 10 percent success rate of reimplantation. Once a tooth is knocked out, it begins to die within 15 minutes, and if not stored properly and within 60 minutes, artificial implants are the option for restoring a smile at the high cost of $3,000 initially and 10 times figure over a lifetime. "Time is very critical, the sooner we can see a patient to get back in, the better the chance of saving the tooth," says Dr. Amber Pearson from Park Dental Maple Grove.
Park Dental's initiative to make Save-A-Tooth kits available to local organizations has also helped to procure new business for the dental practices, by attracting new patients when inevitable dental injury occurs. "When the Save-A-Tooth kit is used in the event of an injury, the victim goes to the dentist who provided it for care," says Caitlin Krasner, Director of Local Outreach at Phoenix-Lazerus, Inc. "In effect, we are seeing a kind of karmic domino effect that is good for the community and for the business," she adds.
This new Samartian-style method of marketing has not gone unnoticed by Twin Cities media. Several TV stations have run news reports on Park Dental's partnership with Save-A-Tooth, which has garnered even greater exposure for the dental group and helped to spread awareness about Save-A-Tooth being the standard of care for knocked out teeth.
More information about Phoenix-Lazerus, Inc.'s Practice Building Program with Save-A-Tooth® can be found at http://www.saveatooth.com/practice-building-program-for-dentists. This program has been used successfully by many dentists in the United States and Internationally.
Phoenix-Lazerus, Inc. manufactures and distributes the Save-A-Tooth® system, the Complete First Aid kit, the Complete First Aid Pro for Dental offices and the Complete Sports First aid kit. It has been in business since 2001 and is dedicated to producing products completely made in the USA with 100% USA-made parts. Save-A-Tooth® is only product in its class that has the American Dental Association Seal of Acceptance and approval by the FDA.