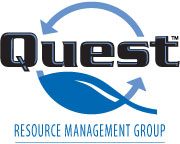 Frisco, Texas (PRWEB) May 31, 2013
The Quest sustainability team was recently asked by the Prairie Grove School District in Prairie Grove, Arkansas to conduct a waste audit on May 2nd in hopes to implement an effective waste reduction program to reduce the amount of waste currently going to the landfill.
Quest director of sustainability, Sandra Heffernan, was pleased to see that Prairie Grove middle school had a solid waste recycling program in place and was eager to help them learn more about implementing an organics recycling program. Quest sustainability manager, Tricia Loe shares her delight regarding the eager students participating in the audit: "It was so gratifying to be a part of this project! The students had taken a field trip to their local landfill, and were well informed about where waste in their community goes. They were enthusiastic and proactive about taking steps to divert more waste."
The Quest sustainability team presented Prairie Grove middle school with a full report regarding the waste generated in the cafeteria – averaging to 25 tons of waste per year. And although the current classroom solid waste recycling program diverts approximately 51% of their solid waste away from the landfill, the audit also showed that 45% of the items in the classroom trash cans could have been recycled. The audit results show that with a newly implemented program, the Prairie Grove middle school has the potential to divert over 90% of their solid and organic waste.
The Quest sustainability team is eager to move forward with additional school districts to implement effective organics and solid waste recycling programs prior to the 2013-14 school year. Since the Prairie Grove audit, they have also completed an audit at Frisco ISD's Fowler middle school, which resulted in 60 pounds of compostable organics waste after one day of lunch.
About Quest - (http://www.QuestRMG.com)
Quest Resource Management Group is a full service environmental consulting and management company, headquartered in Frisco, Texas. Quest helps Fortune 500 companies to maximize profits and mitigate risks, while minimizing their ecological footprints. Quest clients span across all key industry segments, including food services, hospitality, healthcare, manufacturing, construction, automotive aftermarket and fleet industries. Quest provides North American clients with comprehensive sustainability programs, innovative recycling solutions and proven environmental protection.
Quest prides itself in delivering targeted solutions exclusively tailored to the needs of each respective client. Quest also offers Return on Investment (ROI) and Return on Sustainability (ROS) based road maps to help clients design actionable programs for managing RFPs, defining operational protocols, creating and implementing training programs, and defining best practices. Quest's Sustainability Intelligence™ Dashboard helps clients improve decision making by extracting greater insights through unsurpassed business intelligence.
###