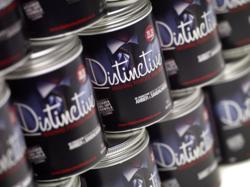 We knew it was risky to use a 'sexy girl' in the ad but our fragrance is based on seductive scents and we wanted her to embody that.
Daventry, Northamptonshire, UK (PRWEB UK) 31 May 2013
A risqué Youtube video advertising washing powder for men has caught the attention of almost 3.5 million people in just seven months.
Turning up the heat and breaking convention, entrepreneur Louise Knowler wanted to use a viral video to help with the launch of her new powder, Distinctive Wash. So with a little help from her friends at Smashed Apple she set about creating mock CCTV footage of a house sitter who whilst going about her cleaning tasks in the house ends up testing out Distinctive washing powder on his clothes. She is forced to strip down to her underwear to complete her cleaning after spilling orange juice all down her shirt.
Louise said: "Most laundry advertising is incredibly boring and we are trying to set ourselves apart as a cheeky brand prepared to break a few rules."
"We knew it was risky to use a 'sexy girl' in the ad but our fragrance is based on seductive scents and we wanted her to embody that."
Liking the scent so much the young sitter steals a shirt belonging to the homeowner before leaving the house writing him a little note, which we assume might be the company strap line "Your dirty laundry is our little secret".
So far the advert has attracted more online attention than the LYNX Rise Youtube video, which has been running almost a year longer, and is storming ahead of Distinctive Wash Ltd's predictions for the product launch.
Louise said: "The advert is tongue and cheek and we are setting out to be Distinctive from other mainstream laundry companies. We are targeting a niche market of men and as such the sexy lady fits with the idea that if you smell Distinctive you will be more likely to be attractive to others. Whether people love or hate our risky approach to start the brand at least they are talking about us."
Distinctive Wash has been featured on television in the US with American and European retailers beginning to request quotations for the product.
Louise said: "I'm really excited that we are driving inquiries through as it would be far too labour intensive for me at this stage to spend my time selling out. The feedback from other successful top name brands has also been terrific and to be told by others that Distinctive will be a success—don't change what you are doing—has been reassuring to hear. But by far the best feeling in the world is when I get a letter from a customer telling me how fab our product is."
To watch the Distinctive Wash Youtube advertisement visit http://www.youtube.com/watch?v=tfV7f7PLkpY.