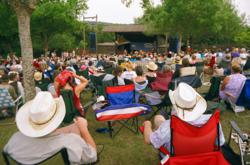 Over the years it has become known internationally as a Mecca for singer songwriters of varying musical styles…
Kerrville, Texas (PRWEB) May 30, 2013
First weekend attendance was great despite rain every day. The Festival continues for two more weeks through June 9th. The Festival began on Thursday May 23 and runs through June 9. Tickets are still on sale at http://www.kerrvillefolkfestival.org and at the gate at Quiet Valley Ranch.
Over 100 songwriters perform during the 42nd annual 18-day Kerrville Folk Festival in the Texas Hill Country. Camp under the bright stars and experience the music, the family, the legacy.
The Festival is held at Quiet Valley Ranch, nine miles south of the Texas Hill Country resort community of Kerrville. This legendary songwriter's festival will once again run for 18 straight days, hosting over 100 songwriters. The festival begins Memorial Day weekend, Thursday, May 23 and runs through Sunday, June 9, 2013. Tickets are on sale now: https://tickets.kerrville-music.com/buy.php.
'Get on the Bus' which was new this year for the first Saturday and Sunday of the Festival was a great success! It was free to park in Kerrville at the City Hall parking garage and ride the bus out to the Festival which is nine miles south of town on Hwy 16. No parking hassles, access to all of the amenities in town, an easy ride back to your car after the concert. The plan is to repeat this service for next year.
Kennedy Theater Mainstage for the first weekend was very successful and continues with concerts for two more weekends.
The second weekend performers are for Friday, May 31 - Dala, Amy Speace, Peter Yarrow of Peter, Paul and Mary fame celebrating his Birthday at the festival, and David Broza back after a long absence; Saturday, June 1, new to Kerrville audiences is Max Gomez; returning are Antje Duvekot, Trout Fishing in America and The Steel Wheels; and Sunday, June 2, Ben Bullington, Chris Chandler, Bill Staines and The Lost & Nameless Orchestra.
Third weekend: Friday, June 7 The Farewell Drifters, The Roys, Eliza Gilkyson and Harry Bodine and the Subdudes, John Magnie & Steve Amedee; Saturday, June 8 The Stray Birds, Birds of Chicago, Ray Bonneville & Milkdrive; and Sunday, June 9 Carrie Rodriguez, Sam Baker, Hal Ketchum, Albert & Gage.
The six Award Winners for the 2013 Grassy Hill Kerrville New Folk Competition for Emerging Songwriters have been announced; Honor Finnegan, Ellis, Eric Bettencourt, Adrianne Lenker, Paul Sachs and Ed Romanoff. They will perform in concert at the Festival on Sunday June 2 from 1 – 4PM at the Threadgill Theater. They were chosen from a field of 32 finalists that performed on the first weekend that were invited from the nearly 800 entries. The New Folk Award Winners Concert will be hosted by Steve Gillette. Several former New Folk finalists and winners include Lucinda Williams, Lyle Lovett, Nanci Griffith, David Wilcox, John Gorka, Jimmy LaFave, Tish Hinojosa, BettySoo, Tom Prasada-Rao, Danny Schmidt, Jonathan Byrd, Tom Russell, Ray Bonneville, Steve Earle, Hal Ketchum, Robert Earl Keen and many hundreds of others.
Held each year since 1972, the Kerrville Folk Festival is the longest continuously running festival of its kind in North America. Over the years it has become known internationally as a Mecca for singer songwriters of varying musical style, a place where those just beginning to develop their skills have the opportunity to play their music alongside masters of the craft. Emerging songwriters as well as teachers are drawn to the festival's many learning opportunities, such as the 33rd Annual Songwriters School, the Roots / Blues Guitar Workshop, Harmonica Workshop, Capo Workshops, a Music Law Panel Discussion, and the 12th Annual Professional Development Program for Teachers.
There is something for everyone at this festival, from camping, campfire jam sessions, concerts and activities for kids, "Ballad Tree" song sharing sessions, Hill Country bike rides and canoe trips on the Guadalupe to Sunday Folk Song Services, Saturday Shabbat Services and much more. This is one musical celebration that must not be missed!
About the festival: A complete festival schedule, information and tickets can be found at http://www.kerrvillefolkfestival.org or by calling the festival office at (830) 257-3600. Ticket prices range from $25 to $40 depending on the particular day. Campground Access and Parking Lot fees are included in the ticket price. The Kerrville Folk Festival is owned by the Kerrville Folk Festival Foundation, a 501(c)3 non-profit organization that is dedicated to the support of emerging songwriters and folk music in all its forms. If you'd like more information about this topic, or to schedule an interview with Dalis Allen, please call the Festival Production Office at (830) 257-3600 or e-mail info(at)kerrville-music(dot)com