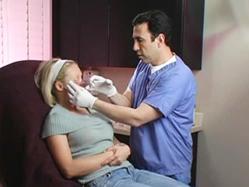 Los Angeles, California (PRWEB) May 30, 2013
Botox, the brand name for a drug made from Botulinum toxin, is popularly known as a treatment for wrinkles. With widespread media attention and exposure through television and film, it is no surprise that many people think of Botox solely as an anti-aging solution. However, according to a May 25, 2013 Miami Herald article, titled "Botox: The New Drug for Migraines," the drug can also be used to effectively treat migraines, particularly the kind that are unresponsive to oral drug treatments and traditional therapies (Go to goo.gl/7k5is).
"Botox for migraines can be a life altering treatment," says Dr. Simon Ourian, Medical Director of Epione Beverly Hills. "For some people migraines are completely debilitating and being able to provide a reprieve from that is very gratifying."
According to the article, migraines are distinct from other types of headaches, causing pounding pain, vomiting and nausea, often signaled by a sensory disturbance called an "aura". The headaches are often worsened by stimuli such as noise and light. They do diminish in intensity and frequency over time but their exact cause remains unknown and poorly understood.
The article goes on to say that traditional migraine treatments consist mostly of oral medications, rest and relaxation techniques, and lifestyle changes. If an association is found between episodes and factors such as the environment, the weather and food, for example, the doctor may also recommend abstaining or minimizing contact or ingestion in patients.
"I only recommend Botox for use on individuals who suffer from severe migraines," says Dr. Ourian, "such as those who experience major headaches for ten to fifteen days out of every month and that have not found relief, even with drastic lifestyle changes and various migraine medications."
Dr. Ourian has been a pioneer in laser technology and non-invasive aesthetic procedures including Restylane, Juvéderm, Radiesse and Sculptra. These treatments are used for the correction or reversal of a variety of conditions such as acne, acne scars, skin discoloration, wrinkles, stretch marks, varicose veins, cellulite, and others. More information about using Botox to treat migraines can be found on Epione's website.