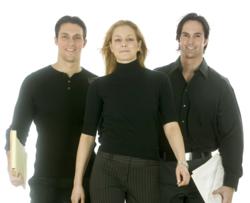 On July 10 in Atlanta, realize the benefits of powerful meeting and presentation skills. Register today.
Atlanta, GA (PRWEB) May 31, 2013
Learn the secrets to Powerful Meetings and Presentations! For leaders of technical, IT, or engineering organizations, do not miss this July 10 Atlanta event.
Technical organizations often struggle when it comes to effective communications with others. This training series targets specific elements important to professional communications. Up to five (5) people per company may attend – the first event is free (save $197 per person). Register by July 9!
Benefit by once and for all learning:

How to set the stage when leading a meeting
How to keep a meeting on time and on task
How to deal with difficult people in a meeting environment
How to deliver a powerful presentation to others in a meeting
How to leverage advanced communication techniques as a meeting leader or participant
Register now at http://www.GeeksCanSpeak.com/training. Attend this event free (normally $197) with a registration on or before July 9. Bring up to five (5) people per company (seating limited).
Details:

Title: Powerful Meetings and Presentations (Geeks Can Speak: Training for High Performance Technical Organizations)
When: Wednesday, July 10, 2013
Time: 9 a.m. – 11:30 p.m.
Location: Atlanta, Georgia – DoubleTree by Hilton at 2780 Windy Ridge Parkway
Investment: free to first time participants
Future Events: October 9 (Grammar, Proofreading, and Business Writing) and January 8 (Employee Engagement in Technical Organizations)
Register today at http://www.GeeksCanSpeak.com/training.
The Geeks Can Speak division of Aikerson Consulting Group, Inc. will host this powerful training.
LaShanya Aikerson Sullivan, CEO of Aikerson Consulting Group, Inc. and founder of the Geeks Can Speak division, started her career as an engineer. After getting her engineering degree (from Bradley University), she began working at a large telecommunications company (now AT&T). What her degree did not teach her was how to effectively communicate with others. Her communication struggles let her to research and develop the comprehensive Geeks Can Speak program. She got her Master's Degree at Northwestern University (Kellogg), took executive level training at Harvard University, and is certified in everything from the Myers-Briggs Type Indicator (MBTI) to Neuro-Linguistic Programming and more. She even completed the NTL Institute's Human Interaction Laboratory. She combined this knowledge with her years of practical experience consulting and coaching technical organizations and leaders, and created the programs taught by her company today. Her company's list of satisfied clients include Coca-Cola Refreshments (IT department), Harley-Davidson Motor Company, Greenway Medical, and more. Aikerson Consulting Group's Geeks Can Speak division delivers training, coaching, and consulting programs to create and sustain high performance in technical organizations. These programs empower technical professionals with communication and leadership skills to ensure long-term success.