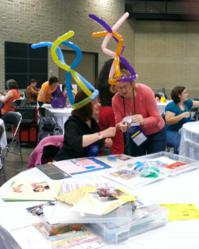 We always love coming out to new cities and this year we are particularly excited to be able to leave a little something behind for the community.
Fort Wayne, IN (PRWEB) May 31, 2013
Creating Keepsakes Scrapbook Convention
For the first year, on May 30-June 1, scrapbooking enthusiasts from Fort Wayne and the surrounding areas will come together for a weekend of creating, learning, socializing, shopping, and more. And while to the outside observer it may simply look like a bunch of people working on craft projects and shopping, to many children and families in the Fort Wayne area, it means much more.
Beginning Thursday, May 30th at the Grand Wayne Convention Center, empty boxes will sit next to the Creating Keepsakes Scrapbook Convention front desk. Throughout the day as scrappers sign up for classes, buy entry passes to the Vendor Faire, and check in, these empty boxes, simply marked Donations, will begin to overflow with products, materials, tools, and more. Brooke Mathewson, Senior Event Coordinator for Creating Keepsakes, stated, "Many people do not realize that scrapbooking trends and styles change just like the fashion industry. With this, many people were simply throwing away unused products, or allowing them to sit on their shelves. We developed these donation boxes and teamed up with different community providers to ensure materials ended up somewhere they could really be used. We are very excited to donate all donated supplies to a social program in the area that can benefit."
This is the first year Creating Keepsakes has hosted an event in Fort Wayne, but their hope is to have sufficient turnout at the event to make coming back an absolute. There are two main components of the event, classes and the Vendor Faire. Attendees can sign up for classes taught by industry experts and actually learn the tricks and techniques used by the professionals. The Vendor Faire provides attendees the opportunity to shop for the latest trends and products from leading manufacturers.
Brooke continued, "We always love coming out to new cities and this year we are particularly excited to be able to leave a little something behind for the community." While class seats are still available for CKC-Fort Wayne, seats are expected to completely fill; for more detailed information or to buy discounted preregistration tickets, please visit http://www.CKScrapbookEvents.com/fortwayne.
Creative Crafts Group
Creative Crafts Group consists of a diverse mix of traditional magazine publishing, online, and digital media, multiple consumer and trade events, merchandising as well as domestic and international product licensing. Creative Crafts Group's foundation is built on nine leading consumer magazine titles with a combined circulation of 1.2 million. Creative Crafts Group consumer magazines are household names and market leaders providing content and community resources for scrapbooking, paper crafting, quilting, and sewing. The publications are Creating Keepsakes, Paper Crafts, Quilter's Newsletter, McCall's Quilting, Quiltmaker, McCall's Quick Quilts, Quilter's Home, Sew News and Creative Machine Embroidery. Creative Crafts Group is a division of New Track Media. For more information, please visit http://www.newtrackmedia.com.