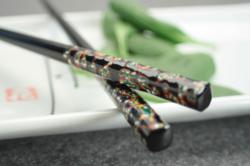 Eugene, Oregon (PRWEB) May 30, 2013
Everything Chopsticks has a new selection of fine handmade Wakasa chopsticks from Japan. A centuries old lacquer technique, Wakasa chopsticks are some of the most highly prized and famous of luxury chopsticks.
Wakasa lacquer ware dates back to the Edo period (1603-1868). Lacquerers of the Obama clan near Wakasa Bay used inspirations of the ocean floor in depicting ornamental designs. Mother-of-pearl, eggshell, gold and silver leaf are used to depict marine elements.
Wakasa is a dying art in Japan. Hundreds of families made Wakasa lacquer ware in the 1800's. Today the craft is maintained by 9 firms employing fewer than 40 craftsmen in the city of Obama, Japan.
Chopsticks became popular when President Obama became famous in his political career sharing the namesake with Obama, Japan. The small city of less than 33,000 people produces 80% of all chopsticks made in Japan.
The production of Wakasa lacquer ware chopsticks can involve over 50 processes. After careful preparation and sealing of the base cherry wood chopstick, a number of layers of lacquer are applied and rubbed down between each one. Each layer requires time to air harden. The application of shell, gold leaf and pine needles combined with the repeated coating and rubbing down of the lacquer layers creates the famous unusual and random decoration.
A single pair of Wakasa chopsticks can take many months to complete. Because of the time, experience and hand labor required Wakasa chopsticks are more costly. Despite their cost these chopsticks are meant to be used and not stored away on display.
Each craftsman has his own unique style. Therefore Wakasa chopsticks come in many beautiful designs, patterns and finishes. Each pair is a work of art.
You can find a selection of new Wakasa chopsticks at EverythingChopsticks.com. They make excellent gifts for chopstick and Asian food aficionados.
About Everything Chopsticks
Everything Chopsticks (http://EverythingChopsticks.com) has been a leading provider of chopsticks since 2005, specializing in quality chopsticks from Asian cultures around the world.