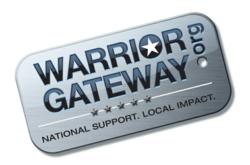 Arlington, VA (PRWEB) May 30, 2013
Thanks to a fourth year of generous support and renewed confidence from Deerbrook Charitable Trust, Warrior Gateway is set to dramatically grow the number of military community focused organizations available on their web portal. The nation's largest resource information exchange for the military community, the G.I. Network, is available to veterans and their families on WarriorGateway.org, creating access to over 200,000 local non-profit and government support organizations. This funding will be used to continue the growth of this network, with a target of 400,000 support organizations by Summer 2014, as well as continue the development and expansion of the WarriorGateway.org portal. The improvements will allow Warrior Gateway to continue to harness the power of technology for social good by providing a free and easily accessible portal for the veteran community to connect with each other, search for resources that best meet their needs in their local neighborhood and provide helpful feedback as to the effectiveness of those services.
Deerbrook Charitable Trust's mission is to "provide individuals of all ages with opportunities for a better education, a stronger family, a healthier life, and a more secure future." Their focused support of organizations creating a lasting change in the lives of others is driving Warrior Gateway to continue to use innovative technology solutions to better connect the military community to the organizations providing them with services and resources.
"The Deerbrook Charitable Trust is pleased and proud to be a partner in this effort. We honor the service of men and women in the military, and their families who stand with them when they are deployed and when they are home," said Arthur Sundstrom, the Executive Director of the Trust.
"The Deerbrook Charitable Trust has been a tremendous partner for us. Their investments in Warrior Gateway over the last four years have allowed us to grow and show the impact that innovative technology solutions can have on communities, large and small," said Devin B. Holmes, CEO of Warrior Gateway. "This level of support shows that the Deerbrook Charitable Trust understands the importance of long term investments. They are an example of the Sea of Goodwill in this country and a role model for the rest of the philanthropic community."
Warrior Gateway emphasizes the importance of empowering service members, veterans and their families by providing access to resources and support within local communities across the country. As a national non-profit, Warrior Gateway also recognizes that the needs of the military community cannot be met unless philanthropic investors, businesses, non-profits and government agencies collaborate. With support from Deerbrook Charitable Trust, Warrior Gateway will not only better assist the military community to answer the question "Where do I go for help?" but ultimately, will help guide the nonprofit community to provide more refined and better quality services to those in need.
About Deerbrook Charitable Trust: The Deerbrook Charitable Trust is a private foundation which supports selected local, regional, and national organizations in the United States serving children, youth, and families, with a focus on organizations committed to improving and increasing effectiveness in delivering services to alleviate critical shortages of healthcare providers, non-profit management, and other areas identified by the trustees. For more information, visit http://www.deerbrooktrust.org.
About Warrior Gateway™: Founded in 2009, Warrior Gateway connects individuals in the military community with locally and nationally-based support organizations and programs, both non-profit and government. Warrior Gateway harnesses state-of-the art technology and community collaboration to help today's veterans make better decisions about what service providers they can go to for help, and have a public forum to share their experiences about the quality and effectiveness of those services. In 2011, Warrior Gateway's efforts were recognized with the Federal Computer Week Fed-100 award for significant contributions to the Federal IT community and in 2012 with a ComputerWorld Honors Laureate for our innovation in creating an open-source platform for information sharing. A proud partner of the Got Your 6 campaign, Warrior Gateway works to bridge the civilian-military divide with non-profit and government partners. For more information, please visit: http://www.warriorgateway.org