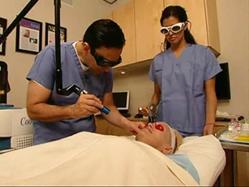 Los Angeles, California (PRWEB) May 31, 2013
According to a May 16, 2013 Vogue Magazine article titled "The Sun After Skin Cancer:
When a Head-to-Toe Glow Is No Longer an Option," there are various ways to mitigate sun damage following a skin cancer diagnosis. Melanoma is an exceptionally dangerous type of skin cancer because of the fact that it spreads very quickly, attacking the lymph nodes and metastasizing. Annual screenings are highly recommended because, if detected in the early stages, successful treatments are possible. More women are getting skin cancer, due mainly to the more active lifestyles that they lead, which often include an increase in exposure to the sun (Go to goo.gl/8jB75).
"It was once thought that only fair-skinned people needed to practice good skin care before exposing themselves to the sun," says Dr. Simon Ourian, Medical Director of Epione Beverly Hills, "but such care is now recommended for anyone planning on spending time outdoors. Wearing a hat and sitting under a beach umbrella is simply inadequate protection from the sun's harmful rays, choosing the right sunscreen is an important step in protecting the skin from damage."
According to the report most people, when shopping for a sunscreen, will automatically look for one with the highest SPF factor believing that they will be well protected against the sun's rays. More important than the SPF factor is the inclusion of UVA ray protection. SPF factor in a sunblock protects the skin from getting sunburned; it does not do anything to stop tanning, freckles, wrinkles, or any of the damage that the sun's rays do to the DNA under the surface of the skin. Broad-spectrum sun block is the only type of sunscreen that protects from harmful UVA and UVB rays. Using the correct sunscreen is crucial, but it is imperative too that people re-apply the sun block at least every two hours, in order to be properly protected against the sun's rays.
"People who have not had skin cancer in the past should have a yearly check up with a dermatologist and do regular self-examinations at home," says Dr. Ourian. "Those who do have a history of skin cancer should visit their dermatologist every three months at least, as well as do home skin checks for moles themselves."
Dr. Ourian has been a pioneer in laser technology and non-invasive aesthetic procedures including Restylane, Juvéderm, Radiesse and Sculptra. These treatments are used for the correction or reversal of a variety of conditions such as acne, acne scars, skin discoloration, wrinkles, stretch marks, varicose veins, cellulite, and others. More information about skin care can be found on Epione's website.