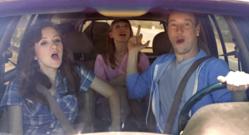 It's cool, I didn't think about it at the time, but we were making a movie about being on a road trip and we were actually literally on one at the same time.
Los Angeles, CA (PRWEB) May 30, 2013
Texas-bred and LA-based directing team, James Leffler and Molly Green, will premiere their debut feature film at the L.A. Film Festival in June. 'Forev' stars Noël Wells and Matt Mider and was shot in the California desert near the Salton Sea.
"It's hard to find people who get you comedically," explains Noël. "Matt and I have been working together since college, and no matter where we are, we can always come together and hatch a million great ideas."
"James and Molly were with us at UT," says Mider. "We'd worked together on various little projects here and there, so it was exciting to get to do something together on a larger scale," Mider says. "When Noël and I approached them about directing a sketch pilot that we were writing, they were like, ehh, what if we just write a feature starring y'all? Naturally, I jumped at the opportunity to do less work," Mider laughed.
Mider, Wells, and their co-star Amanda Bauer also collaborated with Leffler and Green on the script.
"James and Molly were great about involving the cast in the writing process," says Mider. "They'd have me, Noël, and Amanda over for writing sessions where we'd improvise scenes that they were working on."
After graduating from the University of Texas at Austin, Mider moved to Chicago to pursue improv and sketch. "We used to rent space at Improv Olympic or Second City and basically improvise scenes for an hour and then go type the "good" ones out into sketches. Working with Molly and James was awesome because it was a similar workflow."
Following Chicago, Matt relocated to Los Angeles for more commercial work. You may recognize him from his role as "Ice Cream" from Sonic's 'Double Stuffed Oreo Sonic Blast' TV campaign.
"Not wearing a rubber latex suit was one of the best things about working on Forev. Plus, I love hotels and road trips. It's cool, I didn't think about it at the time, but we were making a movie about being on a road trip and we were actually literally on one at the same time. We'd be driving out to the desert exhausted at 5 AM eating homemade breakfast sandwiches while Molly and James prepped us for the day's scene. It sounds grueling but it was the most fun I've ever had."
ABOUT FOREV:
Forev tells the story of Sophie and Pete, who get engaged on their first date - a 6-hour drive through the desert. And then nothing goes wrong... nothing at all.
FACEBOOK: https://www.facebook.com/forevmovie
TWITTER: http://www.twitter.com/forevmovie