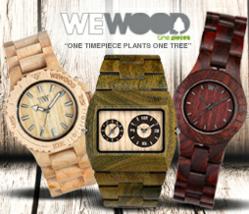 WeWOOD plants a tree for every watch sold.
(PRWEB) May 30, 2013
A Silver Breeze proudly launches a new brand of eco-friendly watches from WeWOOD. All watches are handcrafted of specialized 100% all-natural wood, and free of artificial and toxic materials. WeWOOD, which originally emerged out of Italy, is a brand committed to creating stylish and eco-friendly watches while helping to rebuild the endangered ecosystems of the world.
In an effort to help restore forests around the world, The wooden watch company plants a tree for every watch sold. It is partnered with non-profit organizations to help rebuild forests and ecosystems. American Forests, the country's oldest national conservation organization, partners with WeWOOD to rebuild forests in the United States destroyed by humans or natural disasters. The brand also collaborates with Trees for the Future – an International organization which focuses on restoring forests worldwide through seed distribution, agroforestry training, and specific country programs.
A Silver Breeze offers all six watch collections (Date, Jupiter, Metis, Moon, Voyage, and Odyssey). Each watch is uniquely handcrafted with rich wood finish. These fashionable unisex eco-luxury watches come in various solid colours (from black to blonde tones) and several two wood tones. The watches are made with unique woods such as Mahogany, Maple, Indian Rosewood, Guaico and more!
For more information and to purchase watches from the new WeWOOD collections please visit A Silver Breeze in store or online at: http://www.asilverbreeze.com.
About A Silver Breeze
A Silver Breeze was founded with a philosophy in mind: give women the freedom to be themselves and embrace a sense of style that's unique to each woman. A Silver Breeze offers quality sterling silver jewelry, like Kameleon and Chamilia and gift ideas like the WeWOOD and Natural Life collections.
Stores are located at the Aviation Mall in Queensbury, New York, at the Wilton Mall in Saratoga, New York, and online at: http://www.asilverbreeze.com. Please visit the online store to see all the available collections. A Silver Breeze ensures every customer's shopping experience will be an unforgettable one.