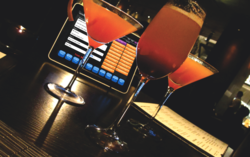 Next Gen Dine software is the first of its kind in the web POS market and the future of dining.
Las Vegas, Nevada (PRWEB) May 30, 2013
Prelag Partners LLC announces Next Gen Dine web POS software is coming soon to Android and Windows devices. Next Gen Dine is a cloud based mobile and web point of sale application for unique and high-end restaurants currently available to use on the iPad and iPad Mini. This software is completely wireless and requires nothing more than an iPad, an active internet connection and a wireless router.
With Next Gen Dine POS software, servers can take orders directly at the table, which reduces waiting time and creates a more positive dining experience for customers. Servers can take payments directly at the table using a card reader attached to the iPad. Other features available to servers include the ability to split checks, combine orders, track bar tabs, sort through items on the menu, and track dine-in and dine-out orders. Once the customer has paid, servers can offer customers email, text, or print receipts.
The web POS software also features a coursing module which allows managers and owners to customize and configure menu course settings. Since the software is cloud based and completely wireless, any changes done to the menu through one station are instantaneously released to other stations. Managers also have the ability to manage employee work schedules and see full reports through the software.
A new hostess module was recently released, which assists hostesses with reservations. The module allows the hostess to create reservations, send reservation confirmations, track reservations, and page the customers via text message when their table is ready.
Next Gen Dine has partnered with Menu Drive to bring customers the ability to place their orders online and through mobile devices. With the Menu Drive integration, clients receive unique marketing tools such as a loyalty program, email and text marketing, a coupon engine, and social media network integration.
Next Gen Dine software is the first of its kind in the web POS market and the future of dining. For more information, please contact Paul Roberts by phone at 1-877-342-2218 or email at paul(at)nextgendine(dot)com.
##