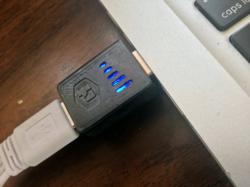 Many people charge their phone at less than half-speed and have no idea why it takes so long.
Salt Lake City, UT (PRWEB) May 30, 2013
Last week, Power Practical announced a new product that promises to shake things up in the USB charging world. The device, called the Practical Meter, tells people how quickly their USB devices are charging. The company says it is aimed at solving a common problem with USB charging: inconsistent power.
Many people unknowingly charge their phones at a rate far slower than optimal. This is because of inconsistent standards for USB-charging at speeds above 2.5 watts. The Practical Meter solves this problem by providing real-time feedback to the user. It fits snugly in between the USB port and charging cable, and immediately displays how much power is being provided.
The meter measures power throughput from one to five watts, the max charging speed for smartphones. Users can easily identify how quickly their smartphone charges from a laptop, car charger or portable solar panel. If it is drawing less than five watts, something isn't right. Users can try alternate charging ports or cables, or reposition their solar panel.
Power Practical says they expect the meter to launch on the popular crowdfunding site Kickstarter in mid-June. They hope to raise awareness about slow charge times with USB and help users solve their charging woes.
"Many people charge their phone at less than half-speed and have no idea why it takes so long. It wasn't until we started metering different USB ports with different devices that we realized there are huge inconsistencies within the USB standard," said David Toledo, an engineer at Power Practical working on the meter. "Our hope is to educate people on how to avoid slow charge times and help them get more out of their smartphones and other personal electronics."
Since USB is used both for data transfer and charging, different types of ports exist on computers, wall chargers and car adapters. Furthermore, USB charging ports on solar panels will only output as much power as the sun is providing, which can vary greatly depending on weather, time of day, etc. The result is a number of ports and charging accessories that will "charge" your device, but at a very slow and unknown rate.
The tiny meter is 1.7 inches (4.3 cm) in length, 0.9 inches (2.2 cm) wide and weighs just 0.3 ounces (8.5 grams). It fits into any USB port and provides an identical port for charging. It even allows data transfer, so users can monitor their smartphone's power consumption during music syncs and software updates. Learn more about the Practical Meter on its landing page at Power Practical's company website.