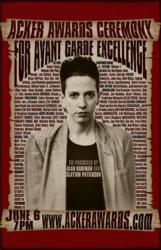 (PRWEB) May 30, 2013
Awards ceremonies to take place in San Francisco and New York City
When: JUNE 6, 2013, 7PM, local time
Where: VIRACOCHA, 998 Valencia Street at 21st, the Mission, San Francisco and The Angel Orensanz Foundation, 172 Norfolk Street, ManhattanNew York.
What: Acker Awards are bestowed on those who "have made outstanding contributions in their discipline in defiance of convention, or else served their fellow writers and artists in outstanding ways."
The award is named after the novelist, and darling of the avant garde, KATHY ACKER
Recipients of the award include Hubert Selby Jr. and Barney Rosset (posthumous) for lifetime achievement; Annie Sprinkle, Peter Plate, Justin Giarla, William T.Vollman, Michelle Tea, Diane DiPrima, Michael Sladek, Matt Gonzalez, Paul Krassner, Joe Goode, Bob Holman, Judith Malina, Daniel Handler, Jane Ganahl, Felice Newman, Brenda Knight, Oscar Villalon, Charlie Getter, Zarina Zabrisky, Joe Clifford, Jerry Cimino, Evan Karp, Peter Maravalis, Jack Boulware, Brett Amory, C.Carr, Nick Zedd, Alice O'Malley, Joe Coleman and many others. For a complete listing of the recipients and more information visit the website.
**Alan Kaufman is the author of DRUNKEN ANGEL and a co-curator of the forthcoming Allen Ginsberg Festival at the Contemporary Jewish Museum in San Francisco.
**Clayton Patterson is a photographer, editor and published of JEWS: A PEOPLES HISTORY OF THE LOWER EAST SIDE and curator of the Outlaw Art Museum on the Lower East side of NYC.