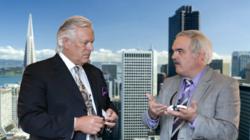 Vuzix has always felt, I have always felt, that wearable display technology has the potential to change the way we do everything.
San Francisco, CA (PRWEB) May 31, 2013
During the recent FSX Investment Conference held at the Ritz-Carlton in San Francisco, California, Paul Travers, CEO and President of Vuzix, granted an exclusive interview available on Vuzix's Public Profile on Interlinked's IDeal Room.
Vuzix, a leading supplier of consumer video eyewear products based in Rochester, New York, has announced the launch of the smartphone-compatible M100 Smart Glasses. Utilizing modern technology to offer a lightweight, portable, and powerful display, the product is set to launch in mid-Summer 2013. 
Vuzix smart glasses M100 is the world's first enhanced "Hands Free" smartphone display and communications system. It provides uninterrupted on-the-go data access from your Smartphone as well as the Internet. Employing the Android operating system it offers text, video, email, mapping, and audio through its wireless personal information display system.
Speaking at the FSX Interlinked Conference, recently held in San Francisco, CEO Paul Travers commented: "Products in the past were designed to plug into things like a computer or a phone. This product goes away from all that, it actually is its own device. Everybody is familiar with smartphones today and this is effectively a smartphone built into these glasses."
To view the complete interview, visit Vuzix's public profile on Interlinked.
About Vuzix
Vuzix is a leading supplier of video eyewear products in the consumer, commercial and entertainment markets. The company's products—personal display devices that offer users a portable high quality viewing experience—provide solutions for mobility, wearable displays and virtual and augmented reality.
Vuzix holds over 47 patents and patents pending, as well as numerous IP licenses in the video eyewear field. The company has won 12 Consumer Electronics Show Innovations Awards and several wireless technology innovation awards, among others. Founded in 1997, Vuzix is a public company.
About Interlinked
Interlinked is designed to be the most efficient and powerful system available in assisting its members in finding one another, building relationships and ultimately do business together. Interlinked is a private network and it is not open to the public. You must be invited or apply to be part of the community. Our proven process utilizes four primary systems: one, through our custom automated campaigns (IRocket), second through media InterlinkedTV, thirdly our Ideal room, fourth, through our relationships with strong partners and events. For more information go to http://www.interlinked.com.
Safe Harbor Statement
This press release may contain information that constitutes forward-looking statements made pursuant to the safe harbor provisions of the Private Securities Litigation Reform Act of 1995. All statements, trends, analysis, and other information contained in this press release, including words such as "anticipate," "believe," "plan," "estimate," "expect," "intend," and other similar expressions of opinion, constitute forward-looking statements. Any such forward-looking statements involve risks and uncertainties that could cause actual results to differ materially from any future results described within the forward-looking statements. Risk factors that could contribute to such differences include those matters more fully disclosed in the Company's reports filed with the Securities and Exchange Commission. The forward-looking information provided herein represents the Company's estimates as of the date of the press release, and subsequent events and developments may cause the Company's estimates to change. The Company specifically disclaims any obligation to update the forward-looking information in the future. Therefore, this forward-looking information should not be relied upon as representing the Company's estimates of its future financial performance as of any date subsequent to the date of this press release.