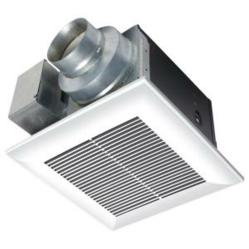 We have the Panasonic ERV installed in our house and love it!
Fairview, OR (PRWEB) May 30, 2013
Bathroom ventilation fans are a home accessory that is often heard but never seen. In 1993, Panasonic released their first WhisperCeiling™ Ventilation fan as a quiet alternative to the typical noisy ventilation fan. Now EcoTone Products presents a diverse line of Panasonic ventilation fans. They are a superior product because they feature quiet operation, easy installation and they are ENERGY STAR® qualified.
Zach Erdmann, President of Premium Efficiency and an EcoTone Products customer, says of the Panasonic WhisperGreen™ fans, "We have done a lot of testing of ventilation fans. We have hooked them up to different duct scenarios with lots of turns, bends and other restrictions and no other fan performs as well as these fans."
Panasonic ventilation fans are high performance and durable. They contain a powerful and quiet DC or AC condenser motor. The improved blade design results in overall better performance and a longer life. The motors are permanently lubricated to provide continuous operation for up to 30,000 hours on AC motors and include rust free paint and galvanized housing. DC motors come with a six year manufacturer warranty and a three year warranty on all other models and parts.
To choose the correct ventilation fan size for a bathroom, measure CFM, cubic feet per minute. An ideal ventilation fan will provide 8 complete air changes per hour. To calculate the CFM for the bathroom, take the bathroom measurements in width, length and height from floor to ceiling. Multiply them together, for example 6 feet wide by 10 feet long by 8 feet tall. 6x10x8=480 cubic feet. Divide this number by 60 minutes in an hour. 480/60=8. Multiply this by 8 for 8 air changes per hour. 8x8=64. A CFM of 64 is needed for this bathroom size.
The noise volume of the bathroom fan is measured in sones. Most Panasonic ventilation fans have 1.5 sones or less, while louder competitor fans will have 4-6 sones. Gregg Robinson, Project Manager of Balanced Energy Solutions and EcoTone customer notes that on the Panasonic line of fans, "We love wowing the clients with how quiet they are! On larger retrofit projects, Panasonic has an unbelievable amount of options from motion sensor exhaust fans to a very affordable ERV (energy recovery ventilation). It is great to provide options from a brand we trust. We have the (Panasonic WhisperComfort™) ERV installed in our house and love it!"
EcoTone Products offers the ENERGY STAR® qualified Panasonic ventilation fans because they maintain exceptional qualities pertaining to energy efficiency guidelines and the US EPA. On average, they use 70% less energy than a standard ventilating fan model. Selecting an energy efficient bathroom fan will contribute to cost savings on the utility bill and also protect the climate by reducing greenhouse gases and carbon emissions. Robinson says, "The standard Panasonic WhisperCeiling™ fans (FV-08VQ5) are at a good price point for us to install just in case the homeowner finds the home is stuffy after we finish the work. If installing the standard fans, we always do it in conjunction with a timer switch so the homeowners can easily ventilate the home." A higher power standard model like the 110 CFM Panasonic WhisperCeiling FV-11VQ5 fan is a fantastic alternative for larger bathrooms in hotels and other small businesses.
Energy efficiency channels including electric utilities, implementation contractors, energy assistance programs and retail outlets contact EcoTone Products directly. Panasonic ventilation fans are also available on gpconservation.com.
About EcoTone Products
EcoTone Products, LLC is a wholly owned subsidiary of General Pacific, Inc. EcoTone Products offers products and services engineered to optimize resource conservation while maintaining high performance standards. Our commitment to quality conservation products extends through our vast product line, which includes manufacturers such as Panasonic and many others. We provide quality product solutions and support that assists our customers in reaching their conservation goals.