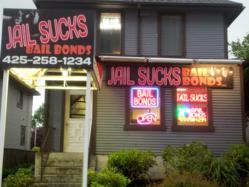 Seattle, Washington (PRWEB) May 30, 2013
Jail Sucks Bail Bonds is now a 24 hour a day/7 days a week, statewide service after having added Snohomish and King Counties to it's list of counties served. With only four offices in Chehalis, Kelso, Everett and Yakima, local agents not in those areas are able to operate from their mobile headquarters. This cuts down on overhead and allows Jail Sucks to charge the legal minimum for their bail bonds service.
Constitutional State law requires that jail bond companies and other surety bond insurers charge at least 10% to cover the bail deposit. This charge is not refundable and is the price of using a bail bond company to cover your bail. Jail Sucks only charges this minimum amount, while other companies can and do charge much more. There are minimums for smaller bail amounts.
When someone is charged with committing a crime, the presumption in the American judicial system is that they are innocent until proven guilty in a court of law. The bail bond system was designed so that the accused can keep on living with as little disruption as possible until their fate is determined. More importantly, tying up one's own money in the bail deposit is less than ideal. This can limit an accused's readily available resources, while putting their money in the hands of an often unyielding governmental bureaucracy. Now that Jail Sucks Bail Bonds is truly statewide they can and will help those in need anywhere in the state of Washington.
Jail Sucks Bail Bonds is a fast, professional and discreet Washington State bail bond company. They offer easy payment plans and often no collateral is required. Jail Sucks is in the business of bailing people out of jail, and in even the most difficult circumstance, they will make it work.